This post has been moved to the following page:
June 2013: Back to Big Crow Lake
A 3 day return trip to Big Crow Lake Algonquin Park


Earlier this summer I took a camping trip with my 7 year old son and a group of friends to Mikisew Provincial Park, which is located just west of Algonquin Park. This was strictly a weekend getaway to do some camping and a bit of fishing with my son.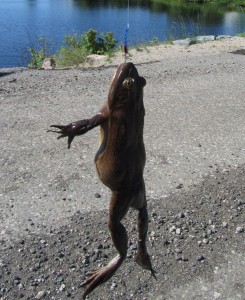 Normally I would not post this here, since this was not really a fly fishing trip.  The kids were spin fishing off the rocks for bass.  There were a couple bets going around for largest fish and silliest fish. Needless to say, the boy who caught this won the latter award.  The poor frog had sealed his lips around the barbed treble hook of a spoon.  Thankfully we were able to remove it release him with minimal injuries, but after spending several minutes trying to free the hook from this poor guy, it really shows you how much safer single barbless hooks are!