Location: Algonquin Park
Date: June, 2013
Duration: 3 days
As planned, we managed to get away to Algonquin Provincial Park last week for a few days of backcountry paddling, portaging, hiking and wildlife viewing. This is the second year in a row that we chose Big Crow as a destination, since bad weather prevented us from doing much exploring last year.
The idea was to set out Thursday bright and early, driving about 3.5 hours to the Opeongo Lake access point. As luck would have it, I came down with a cold Tuesday, which led to a severe lack of sleep and general feeling of being run down Thursday morning. With almost no sleep and the cold still lingering, we would have to postpone the trip by at least one day, or at worst cancel the trip altogether.
After getting a bit of sleep Thursday afternoon, I was feeling better. However, come Thursday night, I began to feel hot. I took my temperature several times, expecting to have a fever, but everything looked normal. I was convinced we needed to turn the air conditioning on in the house, but everyone else was cold. Lying in bed at night was uncomfortably hot, so much that it affected my sleep for the second night in a row. My alarm was set for 5:15 am and when it went off, I awoke with a total of 2.5 hours of sleep. Aside from this, I was feeling surprisingly well: it seemed that the worst of my cold was behind me. Against my better judgement, I decided to stick to the plans and we set out at just after 5:30 am for Algonquin.
The drive up Friday was relatively uneventful. We grabbed a Timmies breakfast and slipped out of the GTA before rush hour traffic. We had booked a 10:00 am water taxi from Algonquin Outfitters to take us from the Opeongo Lake access point to the Proulx Lake portage. Last year, we decided to canoe across Opeongo Lake and while it was a great experience, it just doesn't make much sense to spend half a day paddling this giant lake when you can zoom across it in 30 minutes with a water taxi.
We reached the access point at 9:30 and we rushed to get everything ready for the taxi at 10:00. The boat ride across Opeongo was chilly… a brisk cold wind blowing in my face for 30 minutes was just the ticket to wake me up and give me some energy for the portage and paddling that lie ahead.
We started across the ~1km Opeongo – Proulx Lake portage at 10:45 am. We came prepared for swarms of black flies and mosquitoes, but were met only by the latter. Hordes of blood thirsty mosquitoes were waiting for us on this somewhat marshy portage. Mosquitoes normally don't bother me, especially with a trusty bottle of deet-based repellent at hand. However, no amount of deet could keep you safe from these swarms of mosquitoes. Had we not brought our bug jackets, I don't think we could have made it across without beating eaten alive.
Last year we packed heavier and did this portage with a single carry. My pack weighed in around 65 lbs last year and only about 50 lbs this year, mainly due to leaving out the tent and tarp (since we were staying at an old ranger cabin). Even with this less weight though, carrying my portage pack and a canoe on my back for 1km seemed like a bad idea with the condition I was in. So, we decided to double carry. We carried our packs to the end of the portage, then walked back to carry the canoe and other odds and ends. We were both surprised at how much more enjoyable the portage was with a double carry. A lot less energy was needed, even though we walked 3 km instead of only 1 km. On top of that, chatting and taking in our surroundings was easier and more enjoyable. We decided that we would double carry on our way home as well.
The portage took us about 1 hour with the double carry. We stopped for a break and snack before heading into the canoe to cross Proulx Lake at 12:30 pm.
It was nice weather overall, but somewhat windy (the forecast was calling for 20km/hr winds). Paddling was steady, though slightly slower than usual due to the water conditions. There was nobody else in sight. In fact, we would not see another soul for the rest of our trip.
We reached the Crow River at the end of Proulx Lake exactly 1 hour later, at 1:30 pm. Crow River is a small marshy stretch of heavily winding river and a good spot for seeing wildlife (so we hear, though last year we saw nothing). With the lack of people, abundance of bugs and time of year, we figured our chances of spotting moose on this river were good.
On the first stretch of the river, we spotted a male White-Tailed Deer on the edge of the river. As soon as it saw us it hopped off back into the grass, too fast for me to snap a picture. We never did see a moose on the Crow River (at least, not this Crow River), though we did see another deer on our way back out of the park on Sunday on the same stretch of river. That's already more wildlife than we saw on our entire trip last fall, so I can't say we were disappointed.
We took our time paddling Crow River in an attempt to not spook any other wildlife. The paddle across Crow took about 70 minutes, bringing us to the uneventful Little Crow Lake, which took an additional 20 minutes. Big Crow Lake (which as its name implies is bigger than some of the other surrounding lakes) was fairly choppy and roughly 40 minutes of paddling to reach the Ranger Cabin on the opposite side of the lake.
Approximately 10 hours after leaving home, with very few breaks, we reached the Big Crow Ranger Cabin at 3:40 pm. We were pretty beat, but I was relieved to have made it.
The weather was still excellent, though the mosquitoes were no less relentless here. Thankfully, between our bug jackets, canoe and cabin, there was always a way to find relief from them. The bugs were generally fine out on the water, but on shore bug jackets proved invaluable. They may look odd and uncomfortable, but for such a tiny investment they truly turn an otherwise impossible trip into a very enjoyable one.
The cabin was what I expected it to be. Rustic, comfortable (for its purpose) and a good place to store gear and find relief from the elements. It had a large room with some tables, a wood burning stove and lots of hooks/nails for hanging stuff. It also had 2 small rooms with a bunk bed in each. The beds were made of wood and had some foam on top, which looked dusty and nasty enough to warrant removing in favour of my inflatable ThermaRest and sleeping bag. Overall, I was very happy with the place.
After unpacking our gear, we cooked an early (BIG) dinner and relaxed to regain some energy for the next day. We did a little exploring around the cabin, sat around the fire and I did a bit of evening fishing before calling it a night.
Unlike the previous nights, I had no problem falling asleep. With a solid 8 hours of sleep, I awoke feeling renewed and other than a bit of a stuffy nose, no feeling of sickness was left in me. We had some breakfast and coffee and planned out our day. Our original plans were built around having 2 full days in the park (with 2 days of mostly travelling), but since we cancelled one of the nights we had to rework things to account for having only a single full day. Something had to give… and it turned out to be fishing, again.
A three day trip into the Algonquin interior is just not enough time to get any real fishing in, unless that is your only agenda. At the very least we wanted to make sure we took the time to explore the area this year, since we were unable to do so last year with the bad weather. Speaking of weather, it was perfect on Saturday. The morning had clear skies and a lake of glass.
Revised plans included checking out some of the beach sites on Big Crow, paddling a portion of the other Crow River (connecting Big Crow and Lake Lavieille) and doing a couple hikes in the area. The beach looked like pure white sands from a distance, though that was not the case when we arrived. There is a large section of beach with no campsites on it, which looks fairly wild (in other words, probably not used much, if at all). Still, the beach was quite nice and the lake bottom here was soft sand, with only a couple feet of water for a good long distance from shore. Perfect for swimming.
We spent a good hour at the beach before paddling southeast along the shore to check out three of the campsites on the lake that have their own private beaches. We forgot to check out the campsite to the north of the beach, but the sites to the south were quite nice (some nicer than others). It's easy when paddling into a new lake to simply stop at the first or second campsite you find (we made this mistake last year), but it's a shame to pass up some of the nicer sites like this simply because you didn't take the time to look.
In our travels, we also snapped a few other random pictures:
Continuing on, we entered the Crow River (with the same name as the first Crow River that we paddled the day prior). I seem to recall this referred to as Little Crow River somewhere, but the maps I'm looking at now simply refer to it as Crow River. Very confusing! At any rate, we've never paddled this river before and it's quite a pleasure to travel. It's much wider than its sibling river and looks to be more likely to hold brook trout. I've heard that as this river gets closer to Lake Lavieille, it boasts better populations of brookies. Since we didn't travel down that far, I can't confirm it, but I certainly would love to do a Big Crow – Lavieille – Dickson loop in the future and find out.
Upon entering the Crow River, we immediately spotted our first moose – a male/bull moose. Not expecting it, we approached a bit too loudly and spooked it. It began walking out of the river and up the hillside out of site. I fumbled to get my camera out and only managed to snap a couple poor quality pictures before it disappeared into the forest.
Not 10 minutes further down river, a second moose was spotted! Another bull, this one with much smaller antlers. It seems they are just growing them back after shedding them last mating season, so some are still barely visible.
Overly pleased with ourselves for spotting two moose, we continued down the river to an access point for one of the few marked hiking trails in the area. This particular trail led into a section of forest that is host to some of the last remaining virgin white pines in Algonquin, which have been said to be quite spectacular.
We parked the canoe and hiked for what seemed like a few kilometres into the forest, not knowing exactly what we were looking for (other than some kind of pine tree). Once we got far enough it, it became pretty obvious. Amongst the other more normal looking (albeit still large) trees in the forest were the occasional towering white pines which completely dwarfed everything else in the forest around it. It's not really the width of these trees that is amazing (although they do get very wide), but it's the height. Their branches literally start at the tops of other trees and they proceed to climb high into the sky.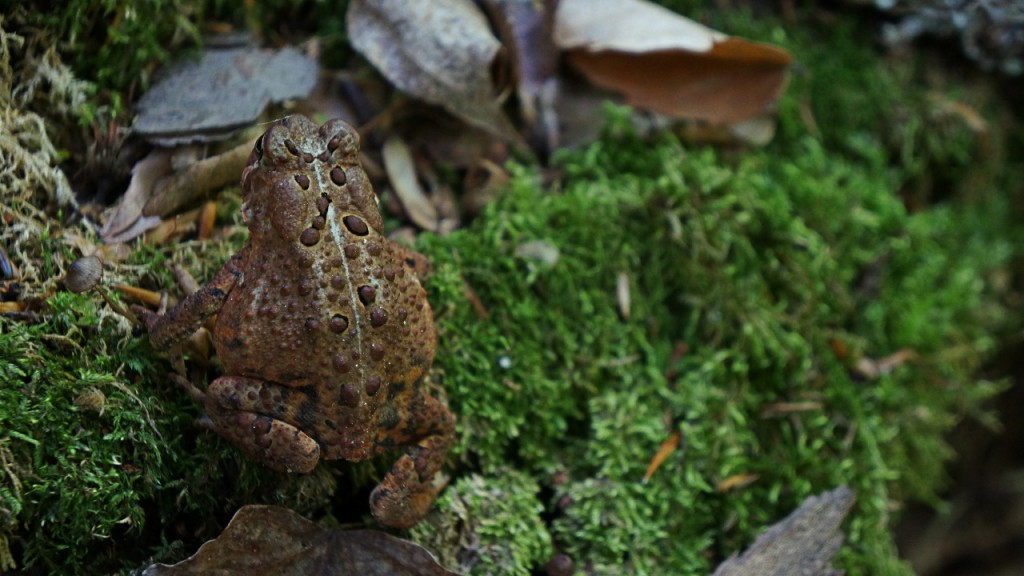 After hiking back to the trail entrance, it was already past lunch time, so we decided to cook some soup and have lunch of the shore of the Crow River before heading back to the cabin. On the way back we spotted our third moose feeding at the mouth of river, where it exits to Big Crow Lake. He was actually blocking the section of river that we needed to paddle through – or at least close enough to it that we weren't willing to try and sneak by. We stopped for a bit and took some photos and video of him.
With the moose still unwilling to move, we decided to try and paddle through a shallower section of river on the opposite side. We managed to squeeze through, leaving the still feeding moose behind and crossing Big Crow to our cabin.
With the remaining energy we had, we decided to hike a pure uphill trail behind the ranger cabin to an old fire tower that rangers once used. The tower sits on top of the tallest hill on Big Crow and boasts some amazing views (so I've heard and see in photos). Apparently they tore down the viewing platform in recent years for safety reasons, along with the first dozen or so feet of ladder. Still, we thought that perhaps we could get a good view from the ground, at the top of the hill. After a grueling climb, our hopes were crushed as there was virtually nothing to see except the ruins of the old fire tower. We did run into a fairly large snake, but that's about the most excitement we got out of this hike.
Back at the cabin, we cooked our last dinner, sat around the fire for the remainder of the night and recapped the days events. The wildlife situation was certainly much different from last year's visit. In total we saw 3 moose, 2 deer, 3 eagles, a beaver, a snake, countless loons and other birds, toads, chipmunks, etc. I had some extra pitas left over, so we decided to toast them on the fire and use the rest of the peanut butter with them. It's amazing how good such a simple meal tastes in the back country.
We packed our bags before bed so we could head out early in the morning to catch a 12:30 water taxi back at Opeongo Lake. Another good night of sleep and before we knew it, it was Sunday morning and time to head home.
We woke to calm waters and overcast skies. Scattered showers and thunder storms were predicted for Sunday, so it was relieving that it had not started yet. After breakfast, we finished the last bit of packing and brought all the gear out to the water. Literally, just before we got into the canoe, it started raining… figures. The rain continued for the duration of the paddle back through Big Crow, Little Crow, Crow River and Proulx Lake.
Despite the rain, we made excellent time due to the calm water. With the extra time we saved, we could afford to double carry the portage and still have time to cook some lunch while waiting for the water taxi to take us home. By the time we finished the portage (about 11:45 am), the rain had completely stopped and the sun was coming out. The mosquitoes were bad enough to drive us back into the canoe to finish eating our lunch.
The water taxi arrived just before 12:30 and we were back at the access point by 1:00, in our car at 1:30 and home by 5:30.