My draw towards fly fishing has always been more about the adventure than the catch. I'll nearly always give up the best holes on the river to fish a quieter stretch of water with less traffic. While this often means catching smaller fish, I won't deny the excitement of fooling a big resident Brown Trout or Brook Trout on my own creation, or catching a new species on the fly for the very first time.
This page isn't about bragging rights and these aren't necessarily trophy fish – at least not on other rivers or for other individuals. Most of these fish were caught on my home river in Southern Ontario. This is simply a place to record and share some of my more memorable catches on a fly rod.
You won't find a lot of hero shots, partially because I tend to fish alone, but also because I find the fish a lot more attractive than I am. Fishing alone also means that I have to photograph my own catches as quickly as possible, which often means either a poor quality picture or no picture at all. There are a lot of memorable fish that didn't make this list, either due to one of the above reasons, or to minimize redundancy.
Brown Trout, September 12, 2006
Time of Day: Evening
Fly Pattern: Scud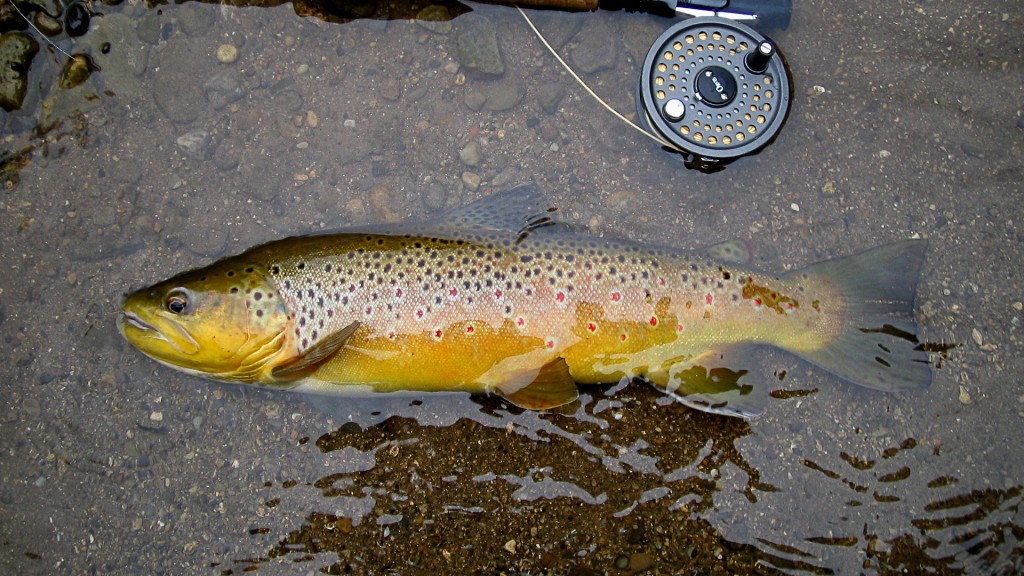 Description: This was my first 20″ trout and still my most memorable fish to date. It was caught on 6X tippet while drifting a small scud nymph through a deep slow moving pool, just before sunset. Probably the nicest looking trout I have ever caught, with very nice fall coloration.
Brown Trout, September 30, 2012
Time of Day: Dusk
Fly Pattern: Gurgler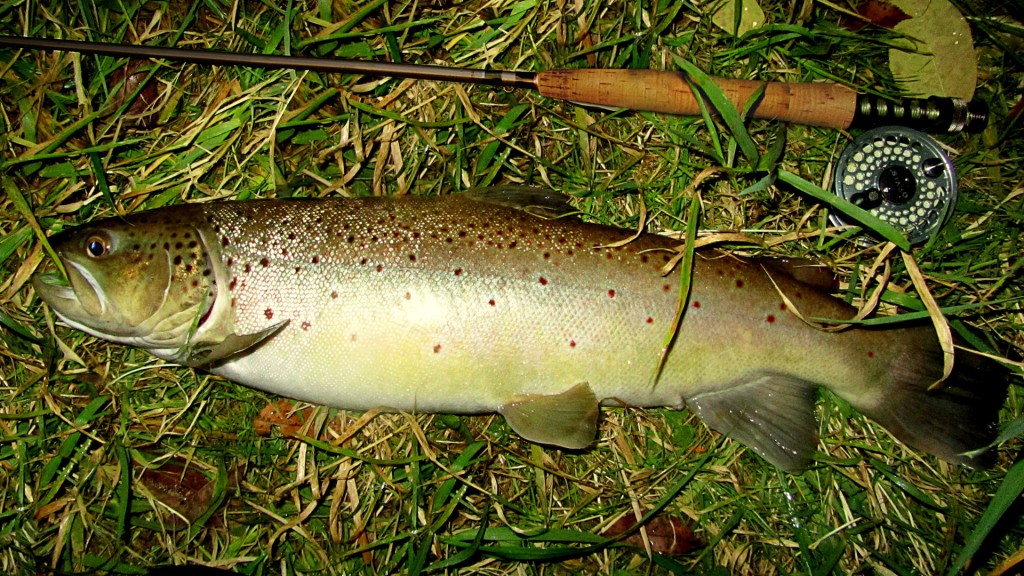 Description: Caught just after sundown on the very last day of the 2012 resident trout fishing season. This ~23 inch brown trout was caught on a 4 weight rod, with a size 2 Gurgler.  I'm not a fan of the bank shot here and generally avoid this at all costs now. Rest assured the fish was out of the water for only a few seconds and promptly released healthy. In fact, I'm fairly certain I hooked and lost this same fish the following year.
Brown Trout, July 3, 2015
Time of Day: Before Sundown
Fly Pattern: Yellow Sally Stimulator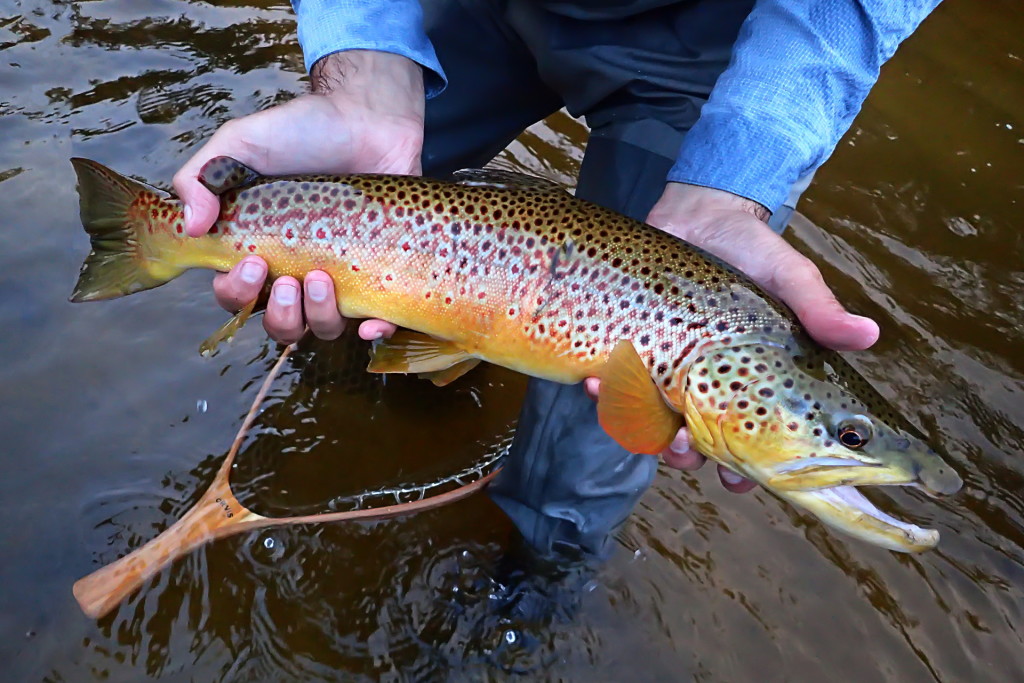 Description: This was one of my more memorable catches in recent history, thanks in large part to my friend Steve who let me tag along to a new piece of water that I hadn't fished before. It was some of the nicest trout water I've seen in southern Ontario and was in good shape due to recent rains that brought the levels up a bit and gave it a nice tea color. Despite that, we had a fairly slow evening and I was fully expecting to leave empty handed. About half an hour before sundown, I began to see a few stoneflies buzzing around and noticed some small dimples in the slack water on the other side of a current seam. Hoping to pick off a small trout holding in the shallow water there, I tied on a Yellow Sally Stimulator and was rewarded with this beauty.
Brown Trout, September 30, 2016
Time of Day: Dusk
Fly Pattern: "Barely Legal" Streamer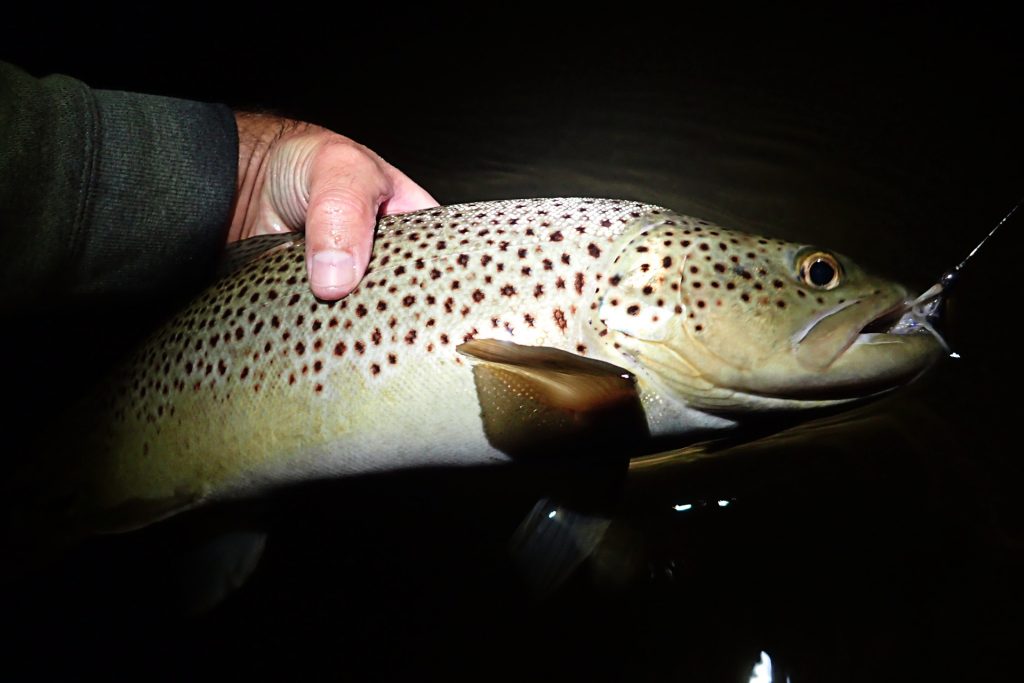 Description: In the last few minutes of the 2016 trout season, I revisited a hole that I had fished thoroughly an hour earlier without success. When I returned after dark, it didn't take long before hooking into this monster. I was fishing alone as usual and this wild brown would not fit in my net. I still don't know exactly how big it was, but if it's any indication, I'm 6'2″ with fairly large hands. It was a fitting end to the 2016 trout season.
Brown Trout, June 3, 2016
Time of Day: Sunset
Fly Pattern: Green Drake Spinner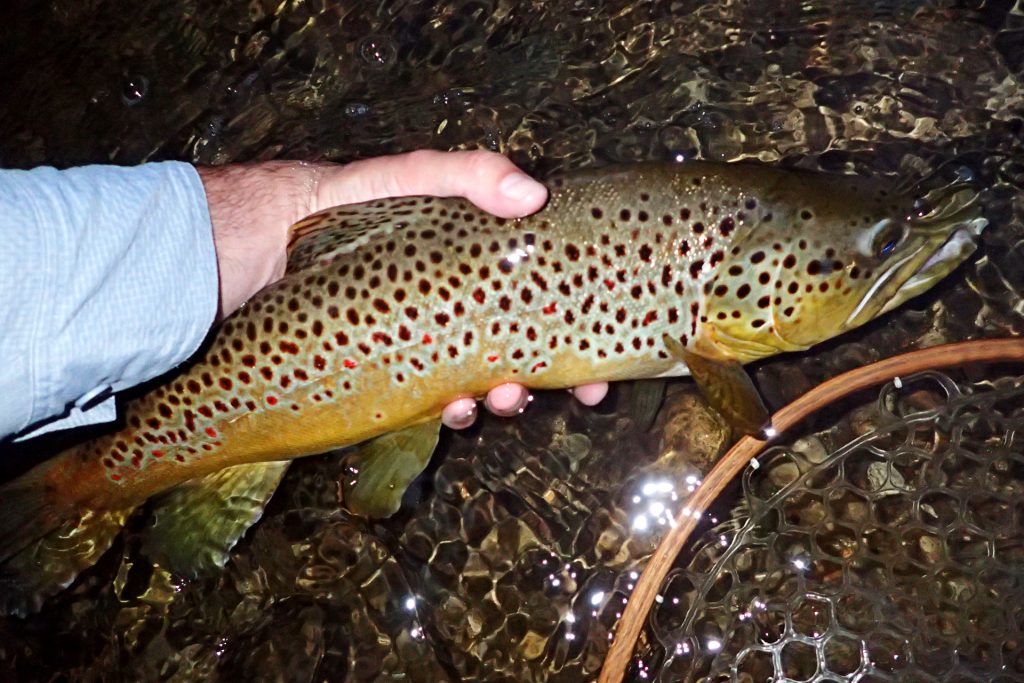 Description: Caught on a size 10 Coffin Fly during some excellent Green Drake hatches on the Upper Credit River. The bugs were even more memorable than the fish this year, as it marked one of the best showings of Green Drakes in recent times on the Credit River. I targeted this large male brown trout that was feeding voraciously on the insects and watched it destroy my imitation as it drifted by. Casting dries to some of the largest rising wild trout of my life is not something I'm soon to forget. I actually re-caught this same fish just a few months later night fishing in the same pool, looking as healthy as ever.
Brown Trout, September 1, 2015
Time of Day: Dusk
Fly Pattern: Mouse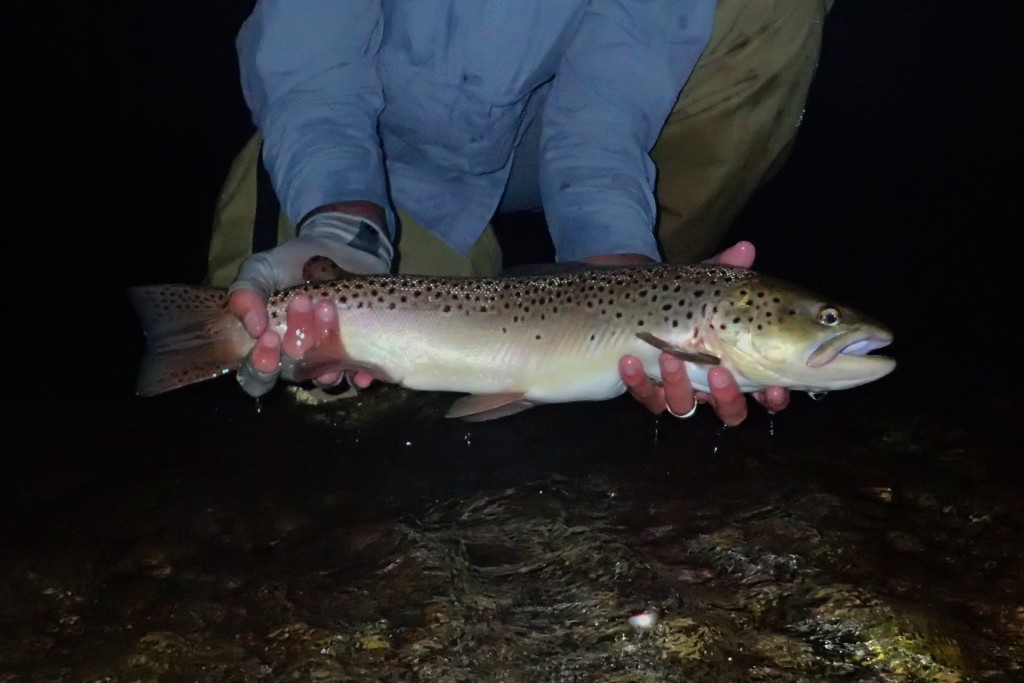 Description: Almost as large as my previous record brown trout and caught in the same hole, three years later. One of the more aggressive takes I can recall, this fish put up a serious fight and really gave my drag a workout. This is yet another fish that I caught again almost exactly one year later in 2016. It was just as healthy and looked to have grown about an inch, putting it around the 23″ mark.
Brook Trout, September 27, 2014
Time of Day: Early Evening
Fly Pattern: Stimulator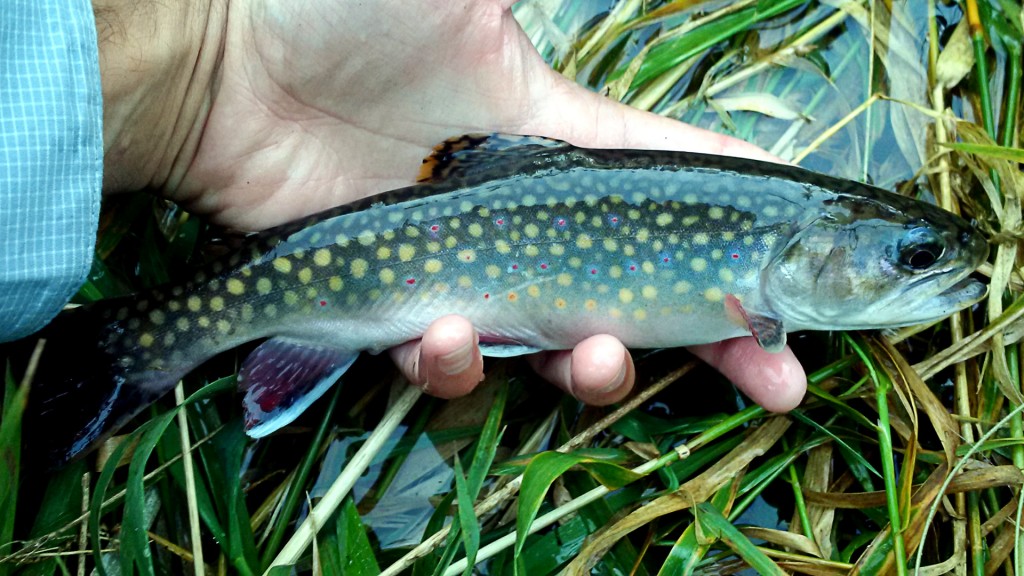 Description: I had to put at least one Brook Trout in here and it could have been nearly any of the countless I've caught over the years. At around 12″, it's certainly not out of the ordinary, albeit larger than the average Brookie in these parts (which is closer to 8″). However, this fish was memorable due to the fact that it was caught on a very small headwaters stream that I had just discovered. As I hooked this fish on my first cast, I watched a Brook Trout about 3-4″ larger chase after it!
Brown Trout, April 30, 2015
Time of Day: Afternoon
Fly Pattern: Walt's Worm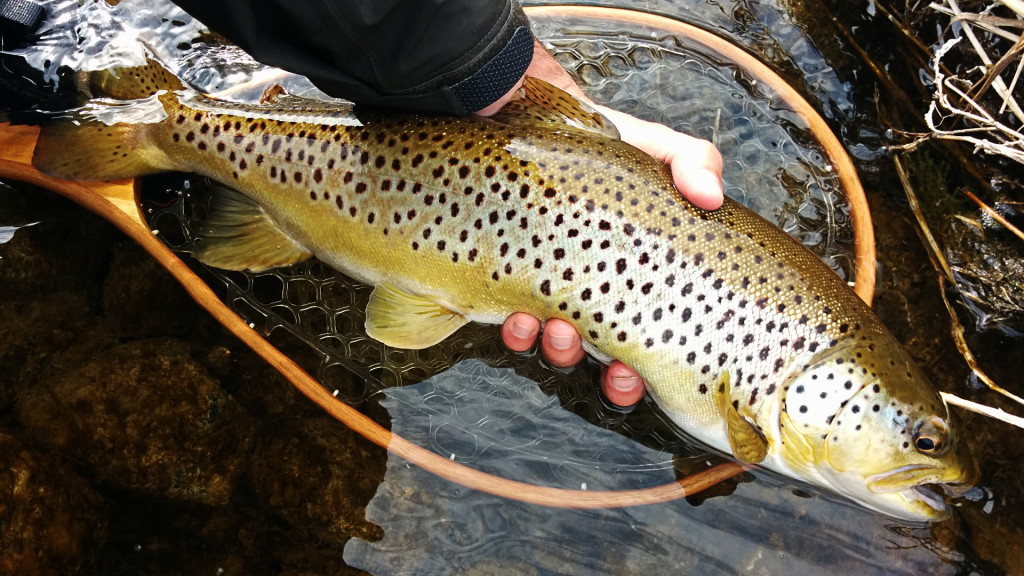 Description: Although the Grand River is where I learned to fly fish half a lifetime ago, its big fish have mostly eluded me in the past. I don't fish it nearly as much as I used to and back then I was happy catching 'stockers'. The locals know where the big fish live and so do most others due to seeing the locals camp these holes day in and day out. The trick for those who fish the Grand less frequently is finding a time when there's nobody fishing those holes and when the fish have had a little break. I found such a situation during the first week of trout opener this year and caught this excellent brown on a walt's worm nymph.
Brown Trout, April 26, 2014
Time of Day: Afternoon
Fly Pattern: Rabbit Strip Fish Skull Streamer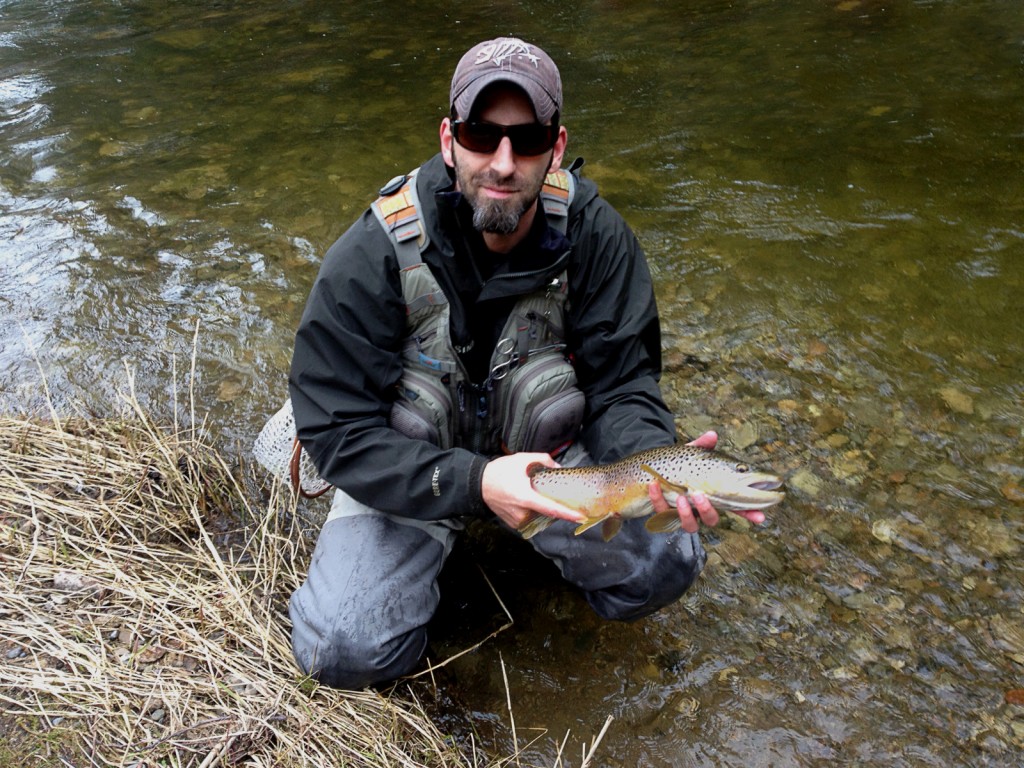 Description: The highlight of my trout season opener for 2014. After a long tough day wading a large stretch of water on the Credit with my friend Ryan, this fish turned up to saved the day. It was caught in the middle of the afternoon stripping a large streamer downstream through a big pool.
Brown Trout, September 10, 2007
Time of Day: Sundown
Fly Pattern: Giant Orange Sedge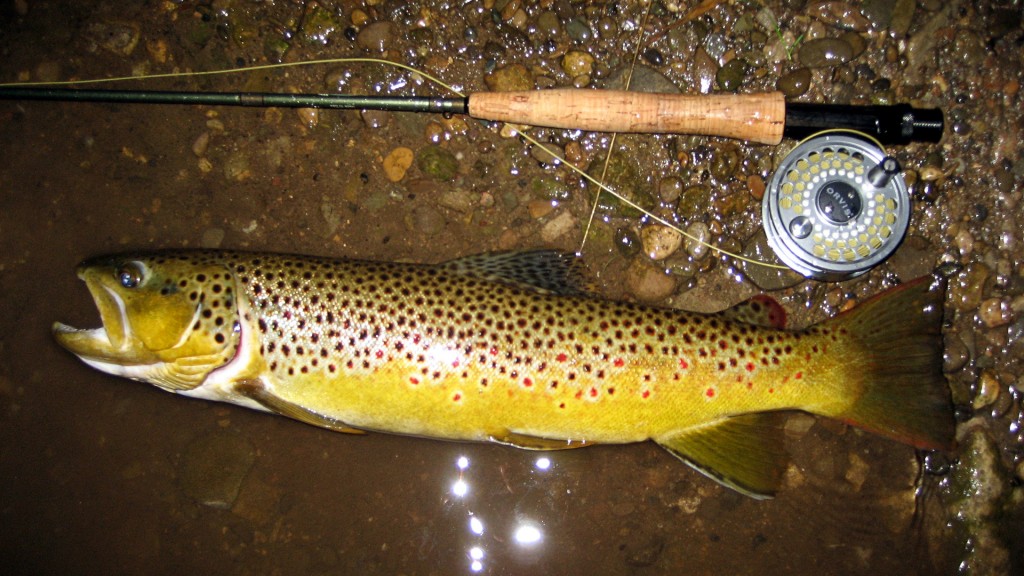 Description: Another less than flattering picture (the woes of trying to snap a quick picture of a large fish by yourself), but a nice brown nonetheless. This was a particularly memorable catch since it was caught on a 3 weight rod, casting a Giant Orange Sedge dry fly just before sundown. It was an unexpected catch and due to the light rod and tippet, it took quite a while to land. It was revived and released healthy, but needless to say, I started carrying a heavier rod on this section of river after catching this.
Brown Trout, August 23, 2013
Time of Day: Afternoon
Fly Pattern: Red Humpy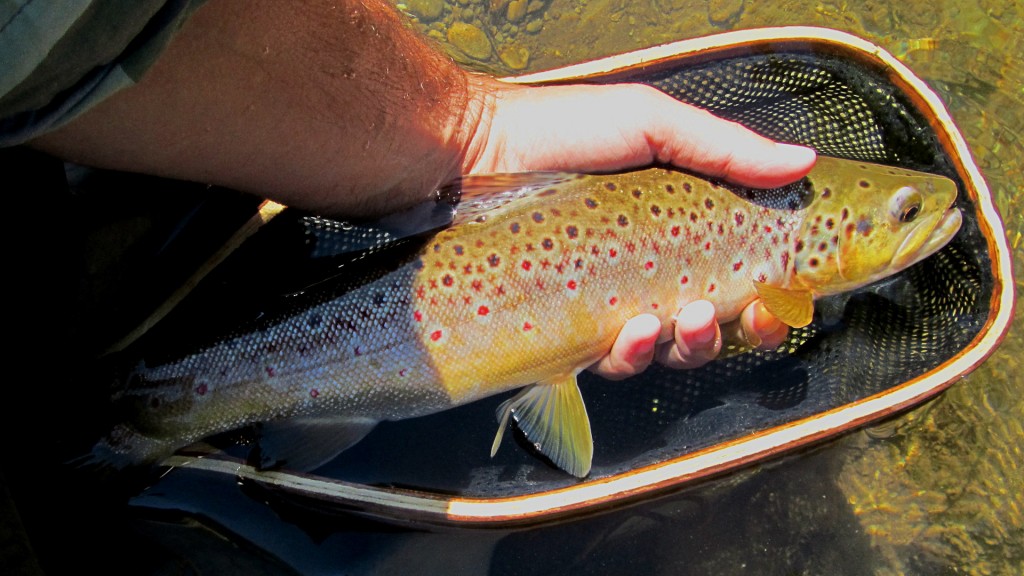 Description: Not the largest brown, but I caught this surprise fish on a bright and sunny August afternoon drifting a Red Humpy dry fly across the middle of a small river. After having little luck in the midst of thick hatches of Blue Winged Olives for a couple hours, I tied on a Red Humpy (for no other than it has brought me luck in the past) only to land this fish and several other nice ones to follow it.
Honourable Mentions
For various reasons, including the fact that I'm a bit of a trout snob, the above fish are at the top of my list. However, there are a few other catches – mostly non-trout – that are worthy of an honourable mention. Some of these were my first non-trout species on a fly rod and they have certainly opened my eyes to the possibilities of fly fishing without trout.