Wow, it's been a long time since my last post! If I had a dollar for every blogger who's written that, I'd be a very rich man. I have mounds of photos and some half-written posts that never got published from the last couple of months, but it would be tedious to give a full recap. So instead, I'll just give a summary of what I've been up to and share a few pics and stories.
There's no better place to start than the Credit. It is still, after all, where I spend most of my time on the water. In my experience, the river has fished quite well this year (aside from some warm spells that is). The last of the large broodstock Atlantics that were stocked in the upper river a couple years ago seems to have finally cleared out and I've been seeing a catching a good number of both brook trout and brown trout on the main branch. Lots of smaller browns and brookies as well, which is nice to see.
Of course, there are still the small Atlantics that continue to be stocked and there are also a curiously high number of rainbows being caught this year. I would say the rainbows are the biggest difference in the river. If the MNR and CVC are concerned about brook trout populations, this is the fish they need to worry about, not the brown trout. I've heard they are likely still escaping from ponds in Erin, although I'm pretty sure they're also reproducing in larger numbers as well. In addition to the usual smaller catches, I have caught a few larger rainbows this year as well, which is quite unusual.
So, unsurprisingly, many of my outings this year have had me catching 3 to 4 different species, sometimes in the same pool.
Most of the major hatches were present and decent throughout the season, including Hendricksons, Drakes, Foxes, Stoneflies, Yellow Sallies and Isonychia (which are still kicking around). I even happened upon a Hex hatch, which is not very common on the upper Credit – though, the only large fish I got out of it was a rainbow. Of these hatches, the Grey Foxes were the most reliable, at least earlier in the summer. They were present in good numbers for about a month and it seemed that every time I hit the river looking for a different hatch, it was the Foxes that ended up stealing the show. Often I was slow to realize this and as a result likely missed some opportunities to land some better fish that refused previous offerings.
I've spent far less time this year fishing past dark than previous years. This is due, in part, to a few factors:
Not being around during the prime night fishing times
An unfortunate accident with a really hot cup of Tim Hortons coffee
An encounter with a Bear, which had me spooked for some time
A few trips kept me off the river during the month of July and August, which is prime night fishing season. One of those trips was a family vacation to Florida, which (before some last minute research) had absolutely nothing to do with fishing. I've been meaning to dedicate a post to that trip, which was my first venture into saltwater. I'll try to get to that post after this one.
Regarding the coffee accident… if it wasn't apparent from the title of my blog, I really like my caffeine and I drink a lot of Tim Hortons. After a couple dozen years drinking hot coffee without issues, I finally managed to spill a HOT black cup of freshly brewed Tims all over my leg while preparing to drive home from my parents' place in Windsor (yes, it only got my leg). That resulted in a 6 hour venture to the hospital and nearly a month of healing, during which I couldn't really fish. I've suffered a lot of injuries in the past, but those second degree burns were the worst I've ever experienced.
Finally, about the Bear… yes, I ran into a Black Bear on the Upper Credit! I was fishing about an hour before dark by myself at a usual spot, when I noticed some bushes/trees moving on the opposite bank. As I looked closer, I saw a large dark animal walking toward the bank. I couldn't make out the entire animal, because it was covered by a lot of brush. However, it was definitely large and wide – larger than any other animal that exists in southern Ontario – and it was black. As it walked slowly toward the bank, I began to back up. At this point, it seemed to notice me and stopped for a second, then briefly charged in my direction closer to the bank. I again stopped and this time started making a bunch a noise and shouting at it. It remained mostly still, though did inch a little closer a couple times. It managed to hide itself mostly behind some fallen trees near the bank and when I was fairly certain it was safe(r), I again started slowly backing up and left the area.
I had heard of Black Bear sightings in Caledon, though this was my first encounter – and happened to be with a bear that thought it a good choice to threaten charging. Thankfully the river separated us, though that honestly was little relief and likely didn't add much to my safety. I believe it was a large cub and in fact, not a week later, I saw a news article indicating that there had been three sightings of the same bear cub in Caledon.
Needless to say, fishing alone in the dark freaked me out for a while after that, though I'm slowly re-gaining my courage and venturing out alone later again. Anyway, here are a couple nighttime fish from late June and one from the other night.
I suppose the last update I have is regarding the Grand River. This is the river that introduced me to fly fishing and I have given it very little attention in the past few years. I remember in my teens and early 20's, spending hours casting to countless rising trout on the Grand and catching stockers at will. That sight of rising fish after rising fish is something I have have rarely seen since those days. The Credit simply is not a dry fly fishery, at least not most of the time (hatches are less reliable and, honestly, the fish are simply smarter on average). I've even struggled to find rising fish on the Grand in recent years. Whether that's due to bad timing, increased fishing pressure or others reason I am not sure.
However, Ryan and I did venture out to the Grand on two back-to-back nights at the beginning of July, for the first time this year. We opted to fish a very heavily trafficked section of the Grand, one that I always tend to bypass in favor of less crowed waters. What I have never understood, is how on earth a small section of river can be so heavily and frequently over-fished and yet continue to produce not only a large number of fish, but big fish. The Grand is weird that way. I guess it's a combination of a lot of dumb fish (the stockers) and huge concentrations of food in certain sections of the river keeping the bigger fish around. Either way, in the few hours we spent fishing this stretch of water, we cast to more rising fish and had more success than I think we had combined the last three years on the Grand. No huge fish, just a lot of chunky fish and a couple larger ones for me.
I wish more sections of the Grand fished as reliably. I want to believe they do, but in my experience, most don't. Even when they look like they should and even when they have better water and far less fishing pressure, they just don't. Some of the more frequent locals and guides will say "the whole upper river fishes just as good", but almost every time they take a client out or fish by themselves, there's back to that same spot 🙂
Anyway, absolutely nothing against the Grand or those who guide and fish it more than me. They certainly know it better than I. As much as I love the Credit and it's wild, elusive browns, the Grand is very much a special river in its own right and is definitely a central figure to the sport of fly fishing in Ontario.
To wrap things up, I was out on the Credit the other night for a couple hours and caught a few nice small to mid sized browns. One of the fish was sipping Isonychia at the very back of a pool, tight to a fallen tree. I managed to drift an imitation back there and it exploded on my fly. I wasn't overly big (maybe 13 or 14 inches), but it was a memorable take and an impressive looking brown to boot. It had a very obvious wild brown signature blue/black patch on its cheek.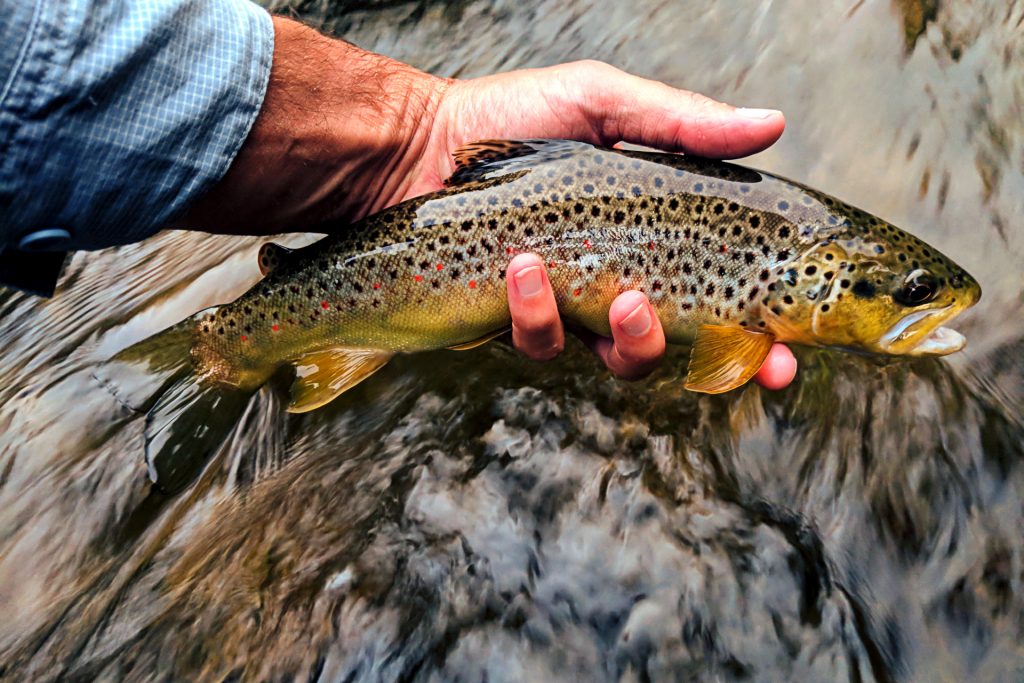 Normally you remember catching the same big brown twice. However, while this fish wasn't big, it resonated with me in a weird way, like I had caught it before. Then, as I was going though my photos for this post yesterday, I realized that I actually had caught it previously this season. In the same pool, feeding on Grey Foxes back at the end of May (it's in one of the slideshows above).
Here's the same fish again for a comparison. You can clearly see that the spots are identical and it's the same fish. Gotta love catch and release!