Location: Algonquin Park
Date: September, 2012
Duration: 5 days
As planned (almost), we headed out for our Algonquin trip Thursday after work. The idea was to leave the GTA before 4:00 pm to beat the worst of rush-hour traffic, but due to some last minute hang-ups at work, we didn't end up leaving until after 6:00 pm.
I've been to Algonquin a couple times in the past and it really doesn't get much easier as far as driving directions go. Highway 400 to Barrie, Highway 11 to Huntsville, Highway 60 into Algonquin. Seriously, it should be virtually impossible to screw this up. Well, thanks to modern technology (in the form of my buddy's GPS), we actually managed to screw it up!
I don't quite remember why we decided to keep following the GPS, or even turn it on in the first place. Perhaps it was the excitement or lack of concentration due to constant chattering during the car ride. Whatever the reason, this devilish device decided to take us more than an hour out of our way, directly south of Algonquin Park and eventually trying to turn us into a private driveway that it thought was a road. Since there are no entrances to Algonquin south of the park, we had no choice but to drive back the way we came. On the positive side, we had the opportunity to see at least a half dozen deer, which would turn out to be the most wildlife we observed the entire trip. However, it also meant that a would-be 3.5 hour trip turned into nearly 7 hours (if you count our stop for dinner)!
We reached Algonquin's Mew Lake campground, which was our temporary sleeping arrangements for the night, at about 1:00 am. The gatehouse was closed when we arrived and there was a note left on a bulletin board outside with my name on it, instructing us to set up our tent and check-in before 10:00 am. We found our campsite, pitched the tent and hit the sack around 2:00 am – obviously much later than we would have liked. With the tiring drive and long days to follow, we decided to sleep in a bit.
We awoke to a damp tent from overnight rainfall. The sky was slightly overcast and rain was in the forecast for the next two days. We ate breakfast, packed up the tent and headed off to our access point at Algonquin Outfitters on the southern tip of Opeongo Lake.
Our route would take us across Opeongo Lake, over a ~1.5 km portage, through Proulx Lake, Crow River, Little Crow and finally Big Crow Lake. We were camping on Big Crow for 2 nights, then heading back the way we came on Sunday.
Opeongo Lake is the largest lake in Algonquin and it's approximately 17 km between the access point and the Proulx Lake portage on the North Arm. We had planned on paddling across the lake, but due to our late arrival Thursday night and similarly late start Friday morning, there wasn't going to be enough time to canoe the entire distance and reach Big Crow Lake by sundown. So, we decided to take a water taxi across Opeongo Lake to save several hours of paddling.
After driving to the access point, waiting for a water taxi and finally arriving at the North Arm of Opeongo Lake, we were a short paddle away from the Proulx Lake portage. It had been raining on and off for most of the day and it was fairly cold. As the boat left, the rain stopped and the sun popped out for a few brief moments; just enough to give us motivation for the trek ahead.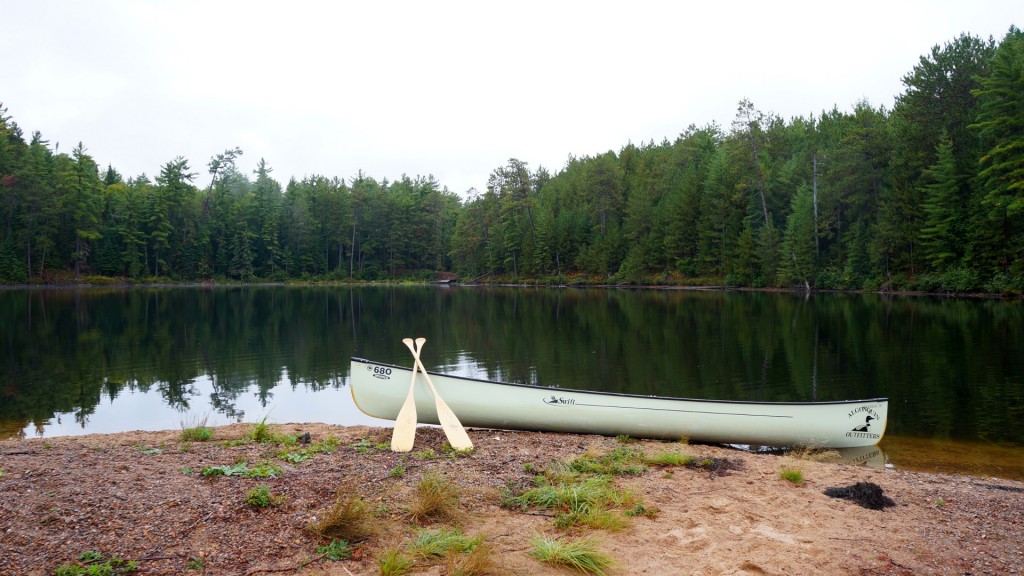 We paddled across and began our first portage. The path was a bit tougher than I expected, with a few steep hills and some tricky rocks and tree roots. My 60+lb portage pack, along with a canoe on my shoulders certainly didn't feel light. Over the course of the 1.5 km portage, my partner and I took turns carrying the canoe. With each additional turn, it felt like the carrying became a bit easier – though my back and neck were thankful to get a rest at the end.
When we reached Proulx Lake, we saw a couple guys heading up the portage on their way out of the park. This would be one of the last people we saw all weekend. Paddling out into the lake, the skies took a turn for the worse and it started to rain again.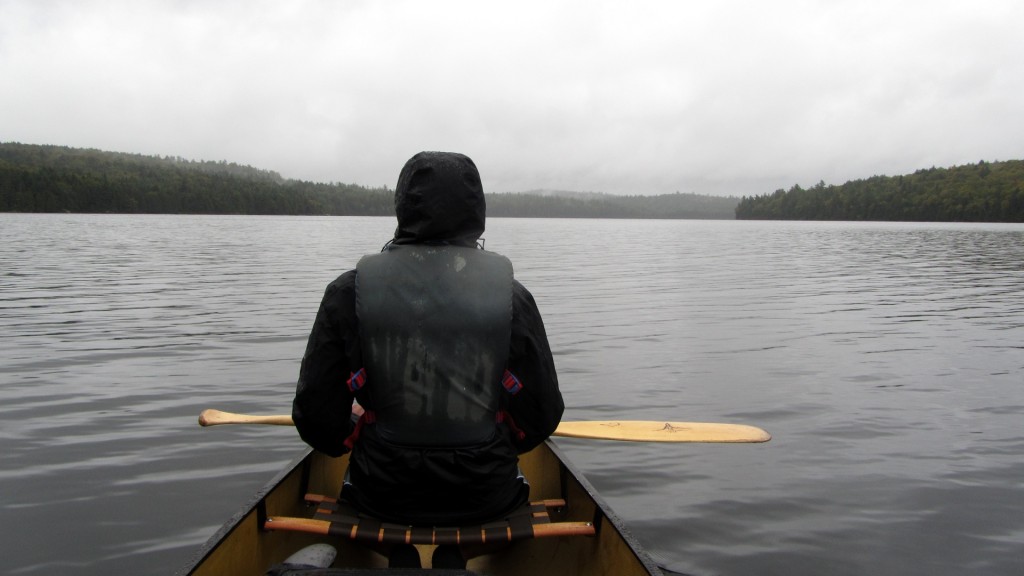 Fall colours were already showing a bit in Algonquin and the trees along the shoreline had mist rising from them. It almost seemed as if there were houses within the forests, with smoke coming from their chimneys.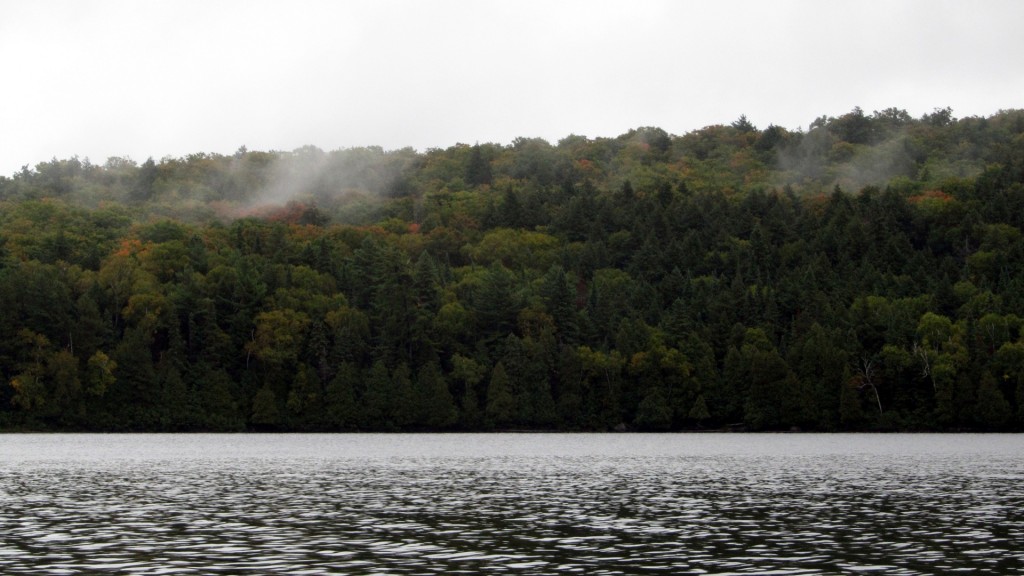 We continued paddling through rainy Proulx Lake and entered Crow River. This small meandering river is fairly marshy and apparently is an excellent place to spot moose. In fact, we were told by the couple at the portage that a large bull moose was spotted right smack in the middle of the river – and that we might catch a glimpse of it if we hurried. Unfortunately we missed it, along with any other hope of spotting a moose this trip.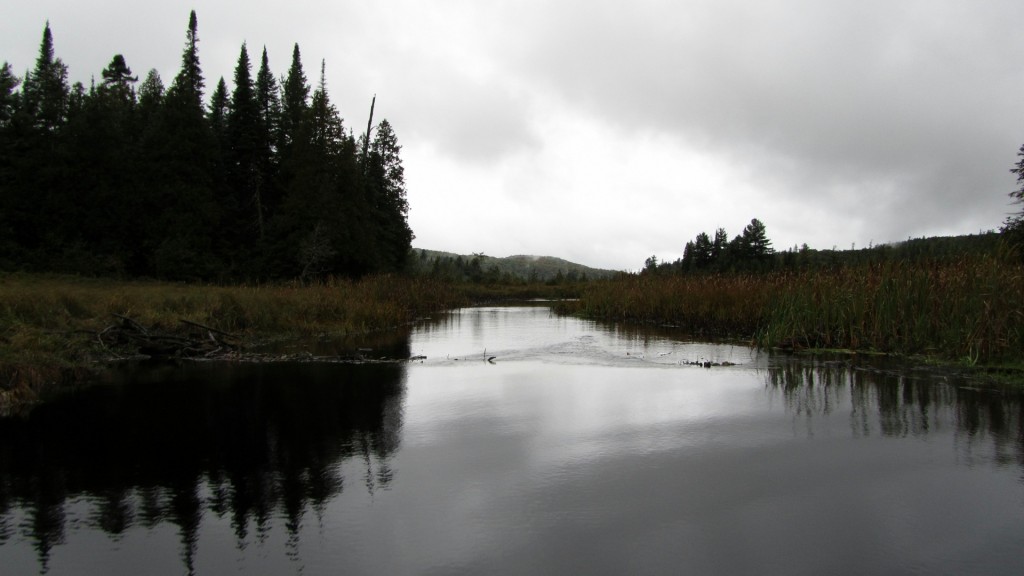 Crow River didn't look very long on the map, but the countless bends in the river made for fairly slow moving. The rain was on and off and when reached the entrance to Little Crow at the end of the river, it was already starting to get late.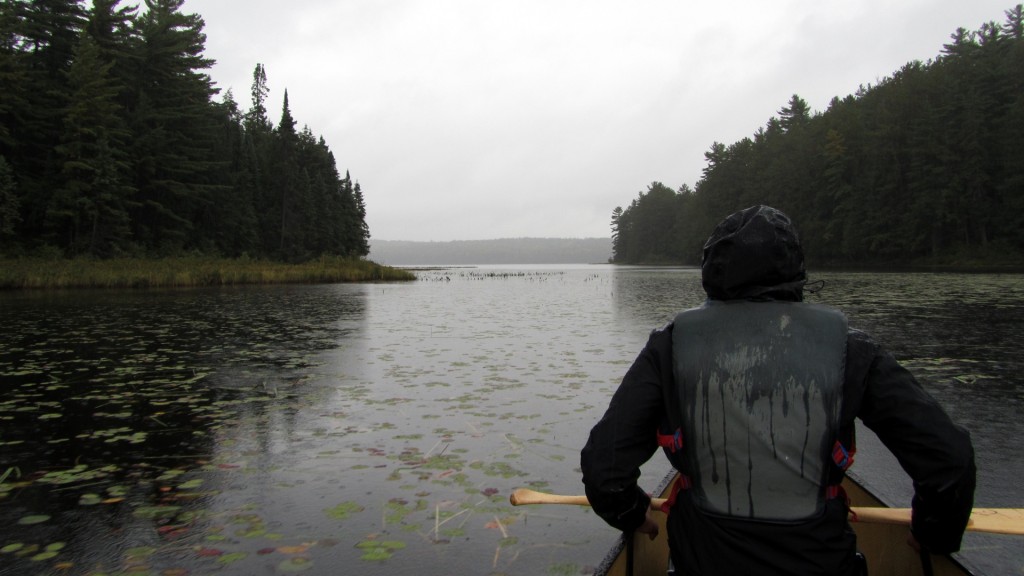 A quick paddle through Little Crow and we found ourselves on Big Crow Lake. We had intentions to explore the 10 or so campsites on Big Crow before picking a site to camp at, but sundown was fast approaching and we were wet and cold. So instead, we decided to pull up to the first campsite we saw and set up camp.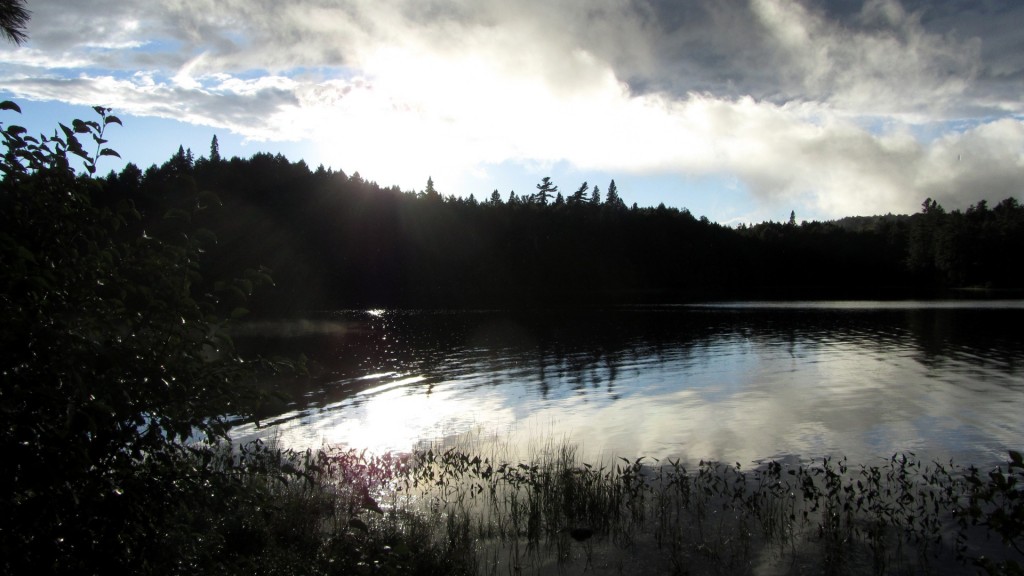 The rain let up a bit, enough for us to set up the tent, tarp and hang some rope to tie up our food at night. I've never had to deal with hanging a "bear bag" for food before, but when you're out in the back country and relying on your limited food to last you, it's important to prevent any pesky animals from stealing it. Not to mention, you don't really want a bear wandering into your campsite when you're sleeping!
By the time we finished setting up, darkness had settled in. We cooked some dinner and tried our best to get a fire going. Dry wood was extremely hard to come by due to all the rain, so what fire we did manage to have didn't last long. Probably for the best anyway – we needed to catch up on some sleep.
Saturday morning was cold and wet, again. The skies remained cloudy and there was on and off light rain for much of the day. The rain wasn't nearly as bad as Friday, but the temperature had dropped some and it was nowhere near qualifying as a nice day.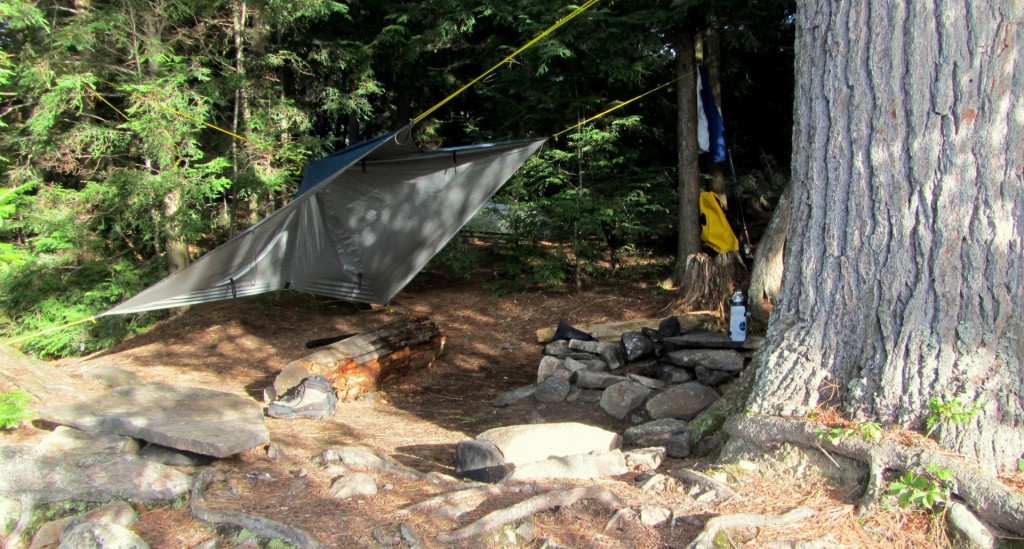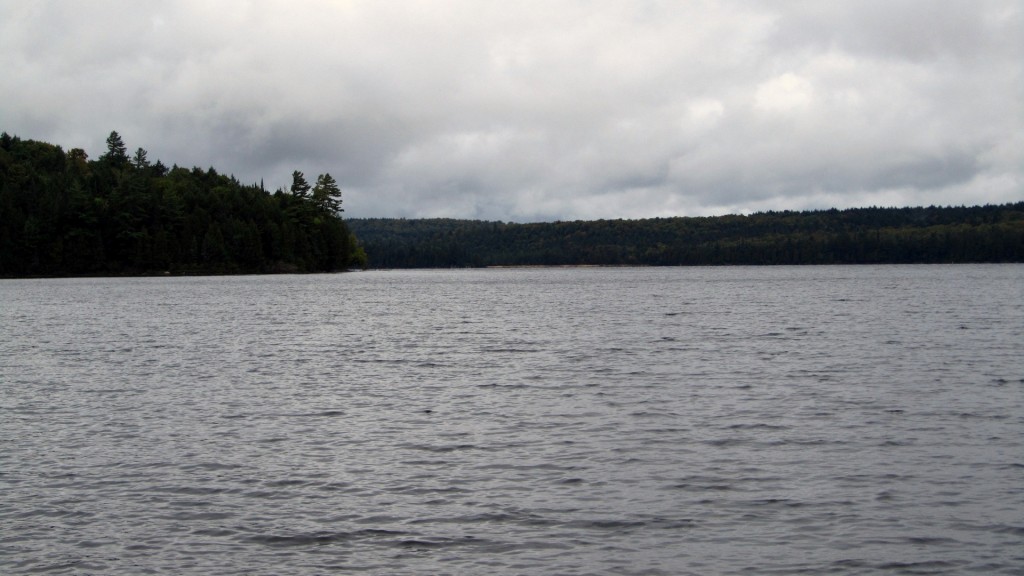 Layers of long clothes and tuques stayed on for most of the day. We paddled across Big Crow Lake to take a peek at a couple different campsites and an old ranger cabin, which is one of the few remaining in the park. There is a steep hiking path behind the cabin that climbs to the top of a cliff which apparently has some spectacular views. Unfortunately, the only way to easily access the path (that I could tell) was from the ranger cabin and there were a few guys staying there who seemed unwilling to let us up.
We continued on to inspect a few other campsites and the first one we came across had a fairly neat setup, with some benches and a little table built around the fire pit. It was definitely an upgrade over our site and if it wasn't so much work to pack up all of our stuff and move it for one night, we might have switched.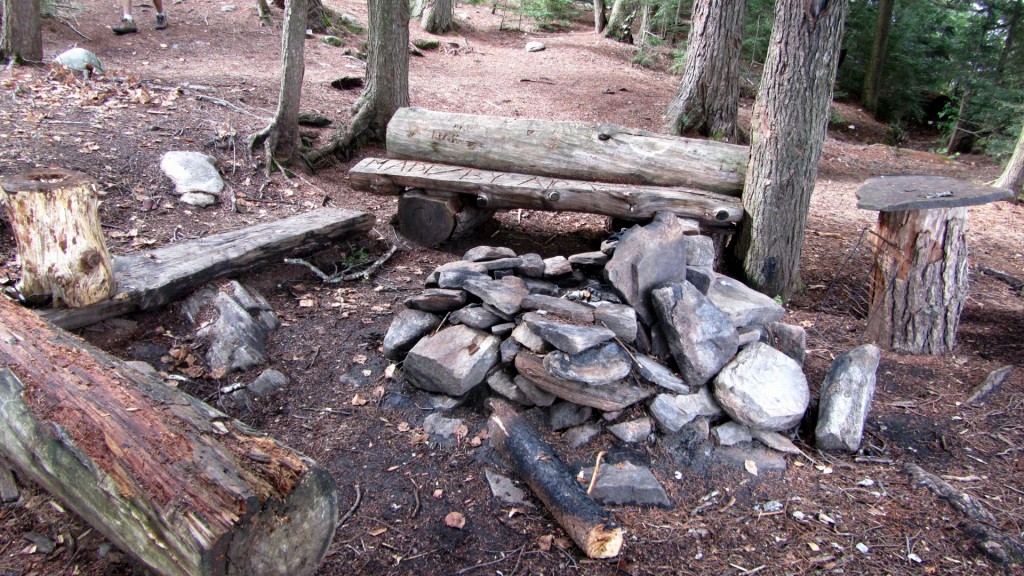 When we got back into the canoe, the wind had picked up unexpectedly and we found ourselves paddling through a very different and rough Big Crow, with whitecaps beginning to form throughout the lake. Paddling was slow and fairly dangerous if we tried to venture far from shore, so we zigzagged back and forth along the shoreline back to our campsite, trying to prevent the canoe from running parallel to the large waves.
Shortly after getting back to camp and abandoning any remaining hope for good weather, the skies magically started to clear and the sun began shining consistently for the first time of the trip. We took advantage of the remaining couple hours of sunshine by going out for a paddle to snap some pics and (of course), I took out the fishing rod to cast some flies in the hopes of catching a brookie or two.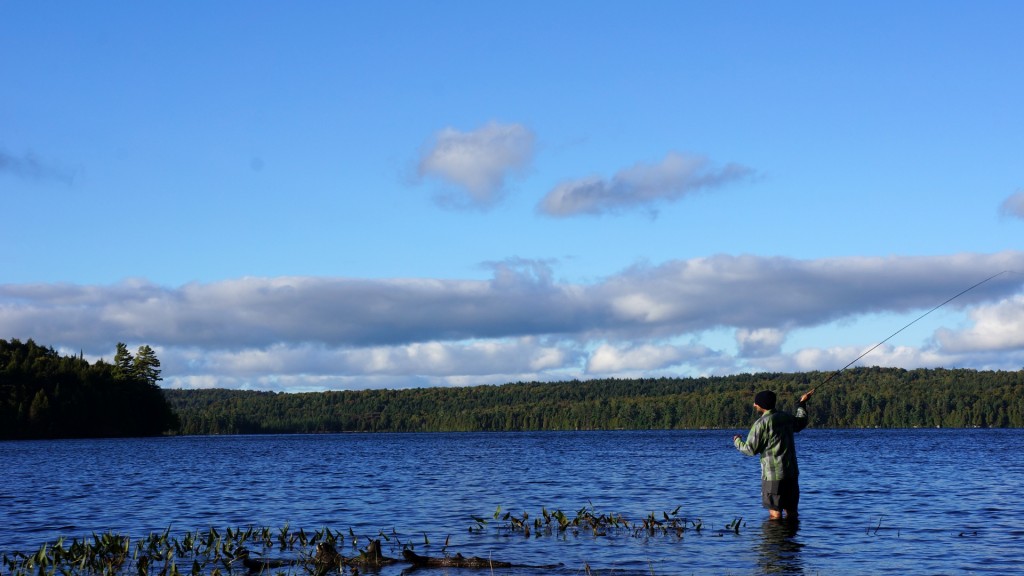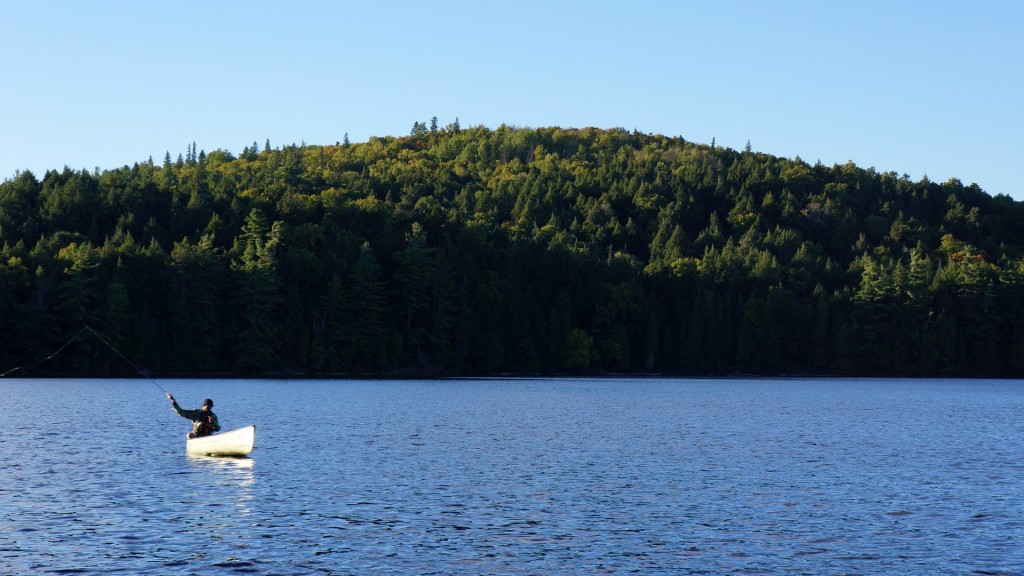 Unfortunately, no brookies would be caught during the limited amount of time I was able to spend fishing. Still, it felt great to spend some time fishing in such a pristine, remote area. There wasn't a single other person or sound on the lake – you just can't beat that.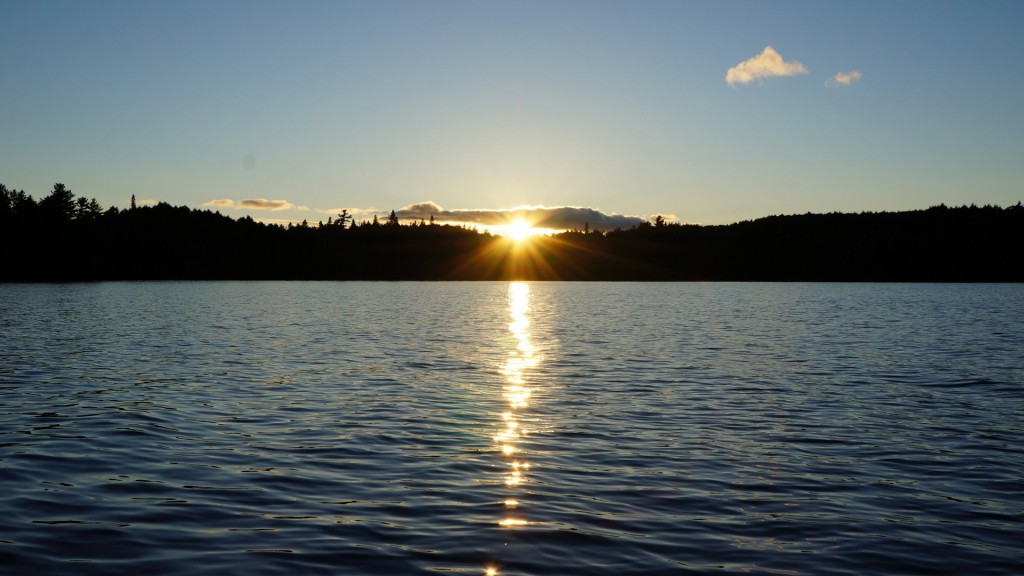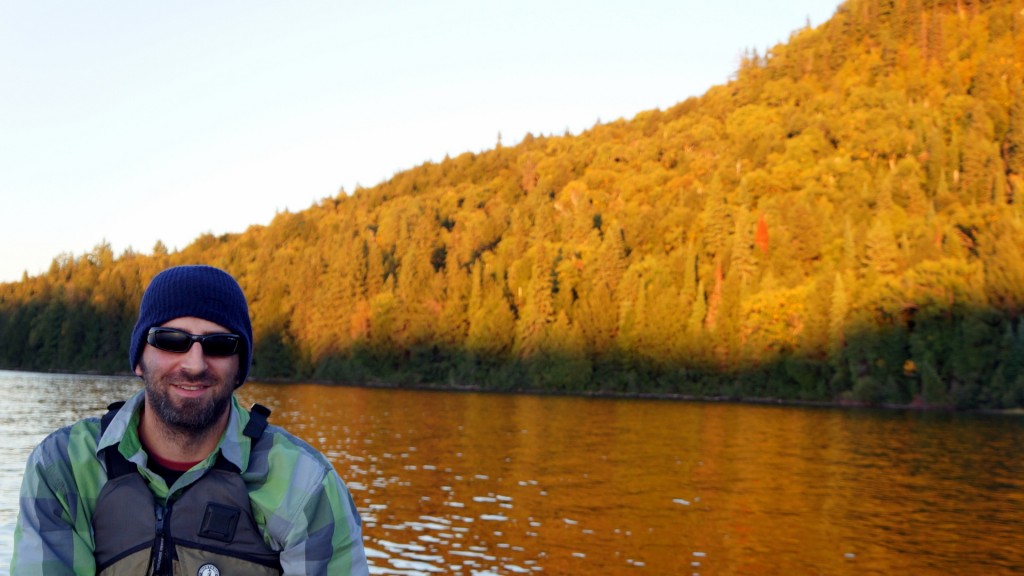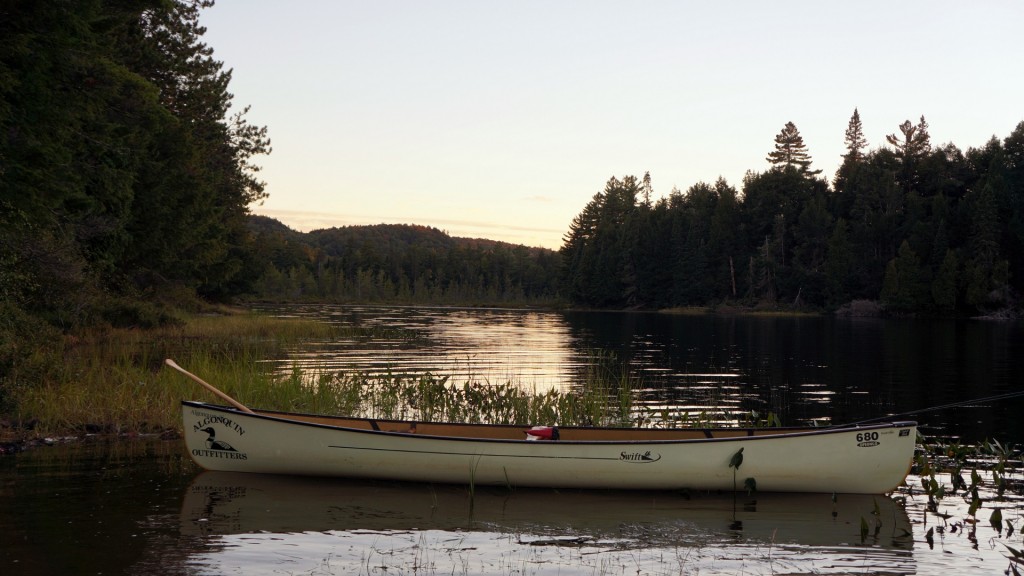 We cooked and ate enough food for about four people, then gathered some more firewood. The sun, wind and less rainfall during the day provided ample amount of wood dry enough to have a nice long (and well deserved) fire that night.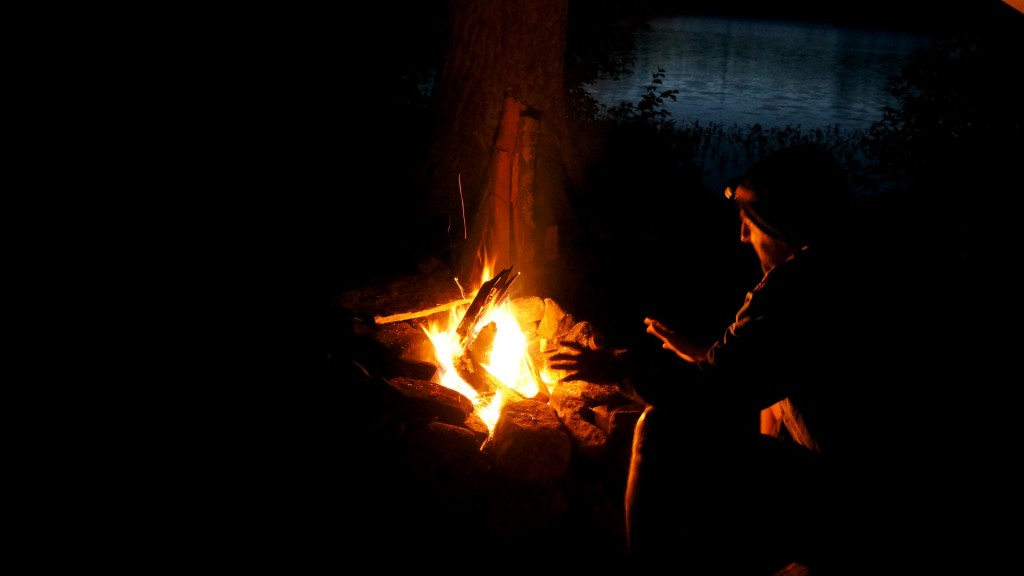 Sunday morning was gorgeous: clear skies, crisp air, calm water and a thick fog covering the lake.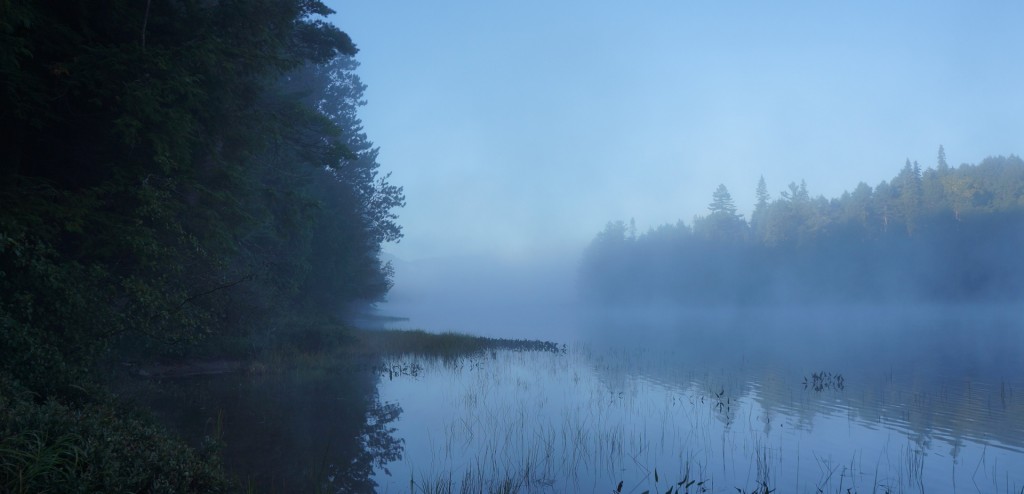 We made some oatmeal, prepared some water for the day and packed up. It was unfortunate to have to leave on such a beautiful day, but at least we would have some excellent weather for paddling. We decided to make a day of it and paddle all the way back and across Opeongo Lake, hoping that we did not underestimate the time it would take to complete this. Without accurately measuring the distance, it looked to be close to a 30 km trip from Big Crow all the way back to the Opeongo access point.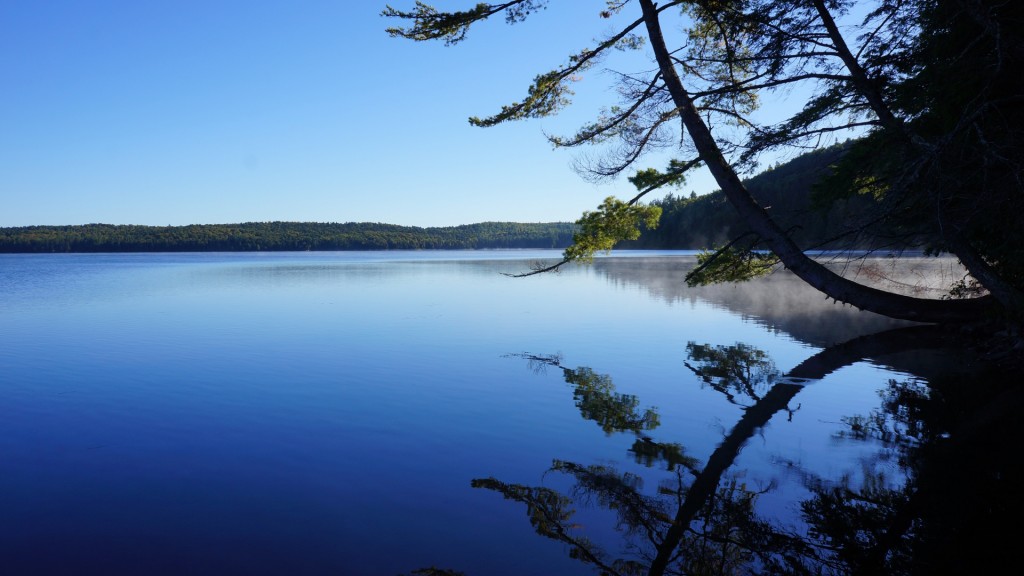 We left our campsite at approximately 10:30 am and paddled non-stop back through Little Crow, Crow River and Proulx Lake.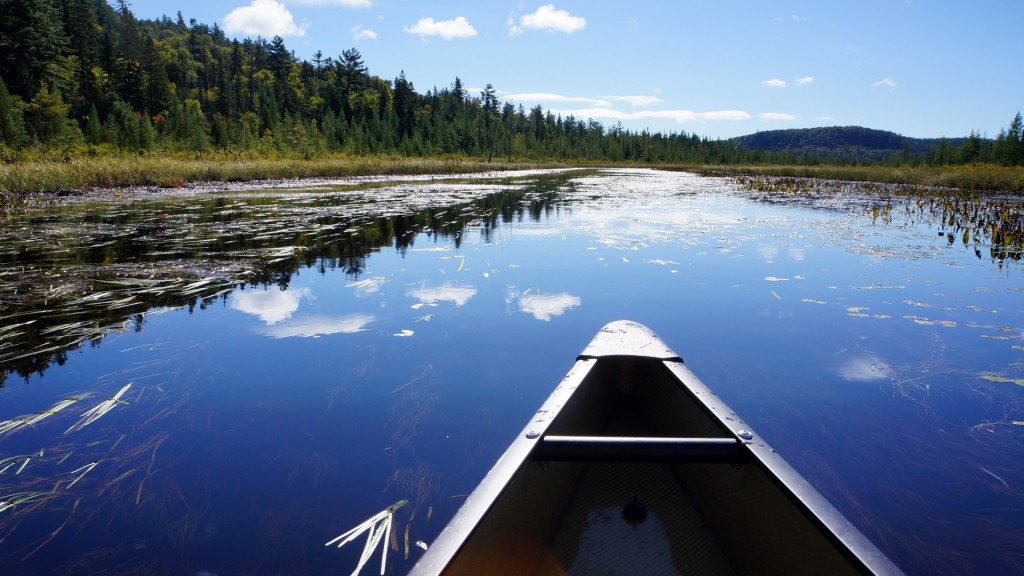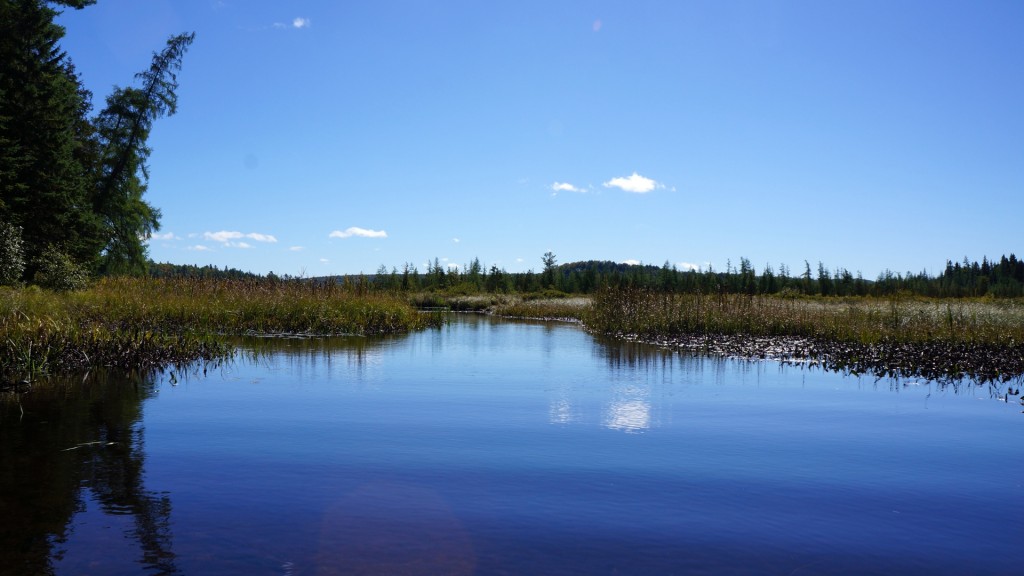 This time around, I defeated the 1.5 km portage by carrying my pack and the canoe nearly the entire distance without much of an issue. I'd say we completed the portage at least twice as fast as the first time through. We were on a mission to make it back before 5:30 pm, which was when the canoe needed to be returned by.
At the other side of the portage on Opeongo Lake, we realized it was already nearing 2:00 pm. That gave us only 3.5 hours to paddle the entire length of Opeongo (~17 km). On top of that, there was a steady wind blowing against us and creating some medium sized waves: both of which we would have to paddle against across the lake. I recall the outfitters saying that you should give yourself 6 hours to canoe across Opeongo. Although I thought that was a bit excessive, 3.5 hours now seemed perhaps too aggressive.
We briefly considered waiting for a water taxi near the portage, but there was no guarantee one would come. If we waited much longer, we would risk being stuck on Opeongo Lake for the night, so without delay we pushed into the lake and started paddling!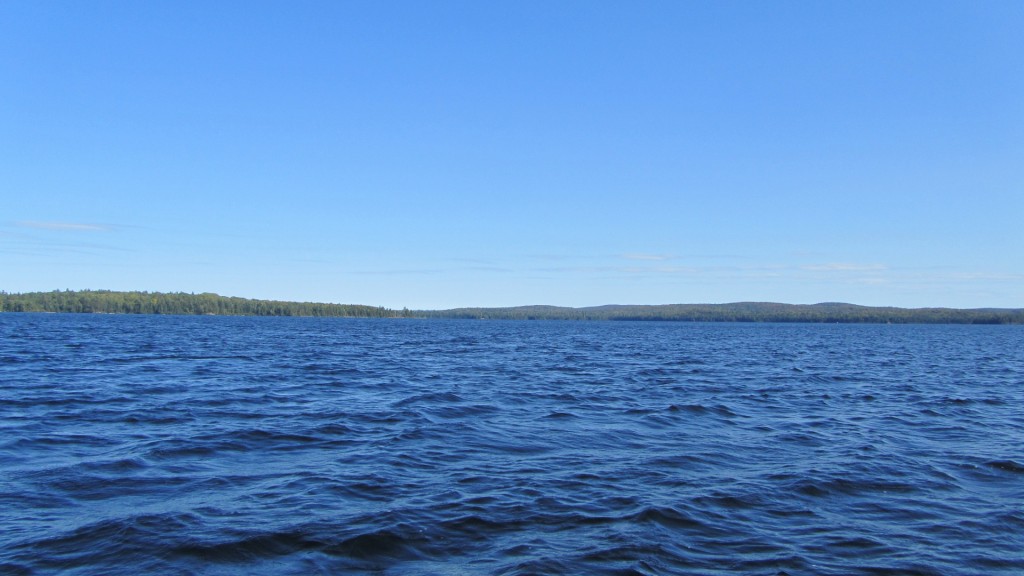 We managed to complete the paddle in one piece and even arrived a few minutes early. High fives, a great sense of accomplishment and our trip was now complete. Despite the weather issues and couple hiccups, it was an amazing experience and I'm already looking forward to my next Algonquin backcountry trip, though next time there will likely be a much larger focus on fishing.
On the drive back home, we stopped in Huntsville to satisfy some serious appetites. After polishing off two small pizzas and some drinks, we snapped a final picture and headed home.