Last weekend marked the end of the 2013 trout fishing season here in Ontario for most inland rivers and streams. It's hard to believe it's come and gone so fast and we have a long 7 months to wait until we can fish for local resident trout again. It still irks me that nearly all of our rivers here are special regulations (catch and release only, artificial, single point barbless hook), yet we still have such short fishing seasons. Not only does it mean we're stripped of our favourite pastime for more than half of the year, but it also means money lost by both small and large businesses related to fly fishing: fly shops, big box stores, tourism, etc. Yes, there's bass (until December) and Steelhead fishing opportunities – and I appreciate that. But for many, including myself, it's just not the same. Using many of the top resident trout fisheries in the US as an example, it's easy to see that it can be very viable to keep special regulations trout water open for a much longer season, if not the entire year.
This is my favourite time of year to fish. The scenery is at its peak with the fall colours and fish are becoming more aggressive as they beef up for the coming spawning and winter seasons.
Like so many others, I went on somewhat of a fly fishing binge the last several days of the season. I used up my last vacation day on Friday and spent most of 3 full days on the water. I suppose I can't really blame others for having the same idea as me, but it always shocks me to see just how many fisherman decide to dust off their gear for these final days of the season. Why not just visit the river once or twice during the rest of the season and get the same amount of (much more peaceful) fishing in? I rarely see another fisherman in most of the water I fish, yet that same water is full on closing weekend.
For the most part, I spent my last few days fishing small rivers and streams, often spending as much time hiking into locations as I did fishing. Sure, it would be nice to toss big flies at some of the best holes in hopes of enticing the largest fish in the river, but I value scenery and peace and quiet more than the size of fish. So, while the majority of fly fishermen spent their time battling it out on more popular beats, or fished shoulder-to-shoulder for the largest of Southern Ontario's salmon and trout, I headed far upstream to stalk the smallest of our native trout: Brook Trout.
I don't target brookies very often, partly because of their smaller size and partly because they're more susceptible to angling pressure than other fish. However, early spring and fall are great times to fish them and what they lack in size they more than make up for in beauty and feistiness.
My friend Ryan and I spent Thursday and Friday almost exclusively fishing for brookies. I took him to a couple locations, one of which very rarely sees any fishing pressure. It was the first time he'd really spent time targeting brook trout and we both had an absolute blast. The first hour saw us land easily 10+ fish, many out of a single nice run. I left the majority of the run to Ryan and he took several 8″+ brookies, small browns and rainbows out of it. As he was setting up I cast a humpy into the tail end of the run and kicked things off with this nice looking fish:
Friday morning and early afternoon were less productive than Thursday as we fished some more difficult water – several miles of it I might add. I'd never walked this entire stretch of river before, though I knew of a few holes on it that were usually productive. They lived up to their expectations and most of our fish were caught from them. We waded downstream and without knowing much of the water, we stumbled across (and spooked) a few unexpected nice holes. I have a feeling they would fish very well in the future, if approached carefully.
Later Friday afternoon, when Ryan had to head home, I decided to drive back to the location we fished on Thursday. The weather was absolutely perfect, there were some nice hatches of Blue Winged Olives and Isonychia and the fishing was even better than the day before. Despite the hatching insects, the money fly was a size 12 Stimulator. One particular small pool yielded well over a dozen brook trout in 30 minutes! I've never pulled so many fish out of a single hole… it was surreal!
Here are a few of the nice looking fish that came to my net Friday evening: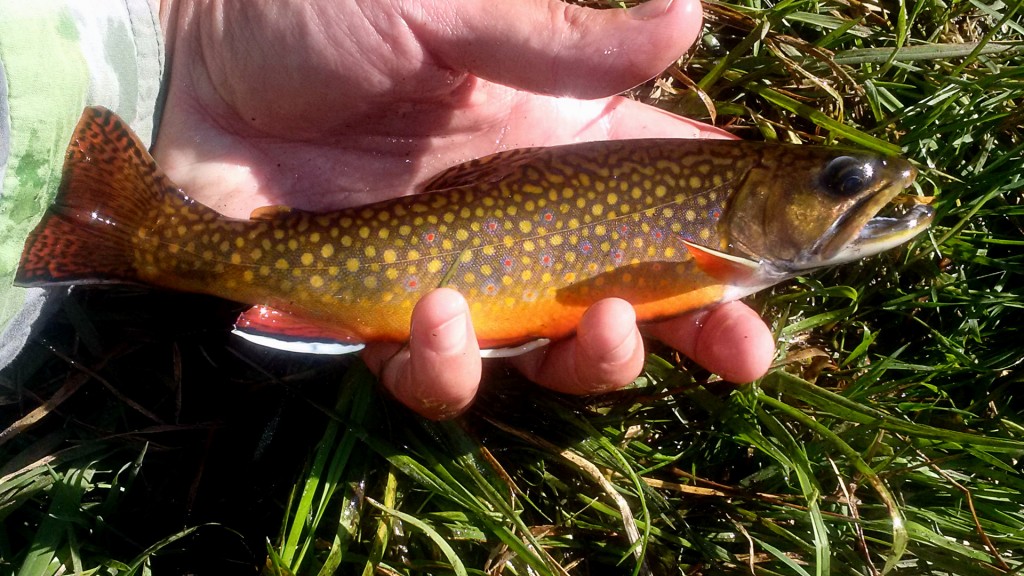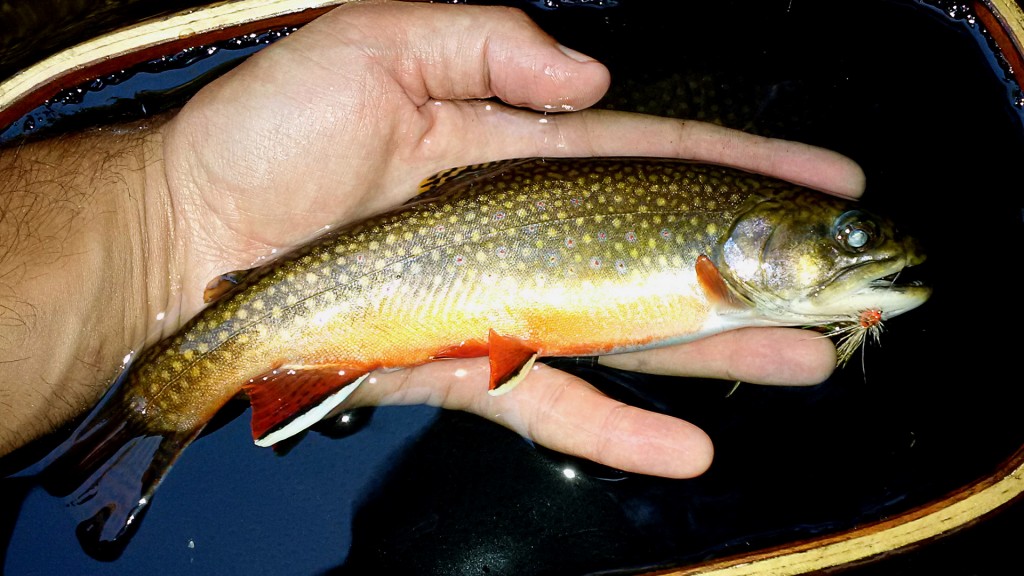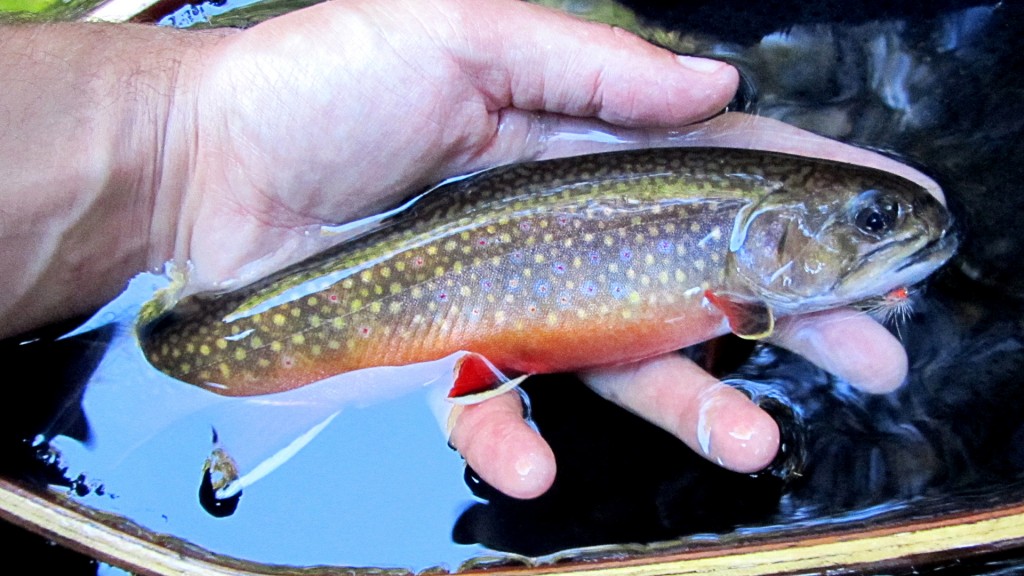 The remainder of the weekend was filled with brown trout fishing. Saturday evening was the only time I spent on a more popular stretch of water and although I know the fishing can be good there, I regretted it afterwards. I shared the river with several other anglers and fished pools that had been largely overfished that day and more recently had an absolutely massive streamer ripped through them by a fisherman ahead of me.
Sunday I drove to a more remote stretch of river, where very long hikes and difficult to navigate terrain ensured I would be the only angler on the river for the day. It's not really big fish water, for the most part. Narrow, fast moving water, a few scattered pools and lots of riffles. I made my decision to fish this water minutes before leaving the house and my fly inventory was somewhat lacking for this type of fishing. What I really wanted to do was swing soft hackles, so I quickly browsed some fly patterns to find something quick and easy to tie. I settled on a bead head soft hackle pheasant tail. I tied 2 of them, hoped they would last the better part of the day and left for the river.
Two hours later, after finding a parking spot and completing a long hike, I sat down on a rock in the middle of the river and tied a new leader from scratch (more on this later). I put on one of my two pheasant tail soft hackles and began carefully working productive looking water. Either my choice of fly was good, or the fish were just not picky. Whatever the reason, fishing was excellent. I caught a few browns from the first small run.
As expected, the fish weren't big, but it was very rewarding and often technical fishing.
I worked my way downstream for a few hours until I eventually lost my only two soft hackles. By this time, it was about 6:45 and the sun was beginning to set. I was moving into an area with some slower moving water and I knew of a couple deeper pools up ahead, so I decided to tie on a streamer to try my chances at landing my last big fish of the year.
I swung and stripped my streamer through the occasional fishy looking water. Not paying much attention (I was looking forward a a certain pool down river), a 16-18″ brown with a big yellow belly leaped out at my streamer as I raised it at the end of a drift. Due to a poor hookset, he was only on for a couple seconds before escaping back to structure he came from.
A bit discouraged, I continued heading towards the final pool of the night. When I arrived, it seemed to have changed since I'd last been there. Structure had shifted, it looked smaller and there was some debris that looked as though it was carefully placed to snag flies. Still, it looked fishy enough, if not somewhat tricky to pull a big fish out of. I stripped my streamer through the pool many times without any sign of fish. After several casts, I got hung up on some underwater structure. Not wanting to wade in and spook the pool, I broke it off. After re-tying my tippet, I stood around for a bit wondering if I should tie on another fly or call it quits. It was almost dark now and I had a very long hike back.
As I was staring at my fly box, I heard a MASSIVE splash. I looked up and saw a big wake of water at the back of the pool. Startled, I wondered if that could possibly be a fish. The splash was so big, I didn't think it could possibly be a brown. I knew beavers frequent this area, so perhaps that was the cause? I've fished after dark many times in the past and I've heard my share of large browns smashing the surface, but they have never sounded remotely as big as this. My next thought was clear: Gurgler, size 2! Let's do this, one last shot at a trophy fish for 2013!
I cut off my smaller tippet, tied my size 2 Gurgler to some 2X and began stripping and popping it through the pool. After dozens of casts and no sign of the big fish, I again stopped to think. Suddenly, another huge splash and this time I saw it! It was now dark and although I couldn't get a good look at it, I could easily tell this was a BIG brown.
With the reduced visibility at this time of night, I decided to cut off all my tippet and only use a few feet of leader, tying my Gurgler directly to the thick mono on the mid section of my leader. I continued casting and stripping, but after many more attempts the fish was still refusing. I assumed that I must have spooked it by now, since a size 2 fly on such a short, thick leader isn't exactly a delicate presentation. The brown gave one more big splash, letting me know it still wasn't done feeding. Half a dozen casts later, it slammed my Gurgler!
Now's where this starts sounding like your typical fish story. The sad part is, a fish story and a broken leader is all I have to show for what was the most chaotic and mind blowing battle I've ever had with a fish. There was no knot in the leader where it broke (though it may appear so). The line is curled at the break purely from the tension it took to pull and snap mono this thick.
Suffice it to say, this was easily the largest brown I've ever experienced, by a pretty big margin. I've caught several 20″+ fish in the past (~3-4lb), but none have compared to the weight and power of this fish. My best guess is that this fish was well over 6lb, possibly over 7lb. Other than the odd brookie and very small resident rainbow, there are basically no other fish species in this part of the river, so it most certainly was a brown.
Wild head shakes and thrashing ensued as it tried to shake the hook free. For a few minutes he ran to an undercut bank and was nearly unmovable. I tried to disorient him by applying pressure in different directions, but pulling too hard felt almost as though my 4wt Hardy Zenith was going to snap. It moved back and forth along the bank, staying as deep as possible. I was afraid it was going to run into some nearby structure that would surely put a quick end to the fight.
I turned my headlamp on full brightness and walked a bit closer, prompting the fish to bolt to the other side of the pool where it proceed to wrap itself around an underwater log. My heart was racing: I wanted to land this fish so bad and I was afraid I may have lost it. I quickly waded over to the log and tried to free the line. I reached underwater and grabbed the line and all the sudden he darted out from under the log back to the undercut bank: he was still on!
At this point, a good 10 minutes (or so it felt) into fighting the fish, there was still no sign of fatigue. It was pulling harder than before and moving closer to some underwater structure. Again, afraid it would run into this structure, I applied enough pressure to keep him in the pool. And then… snap!
My leader came flying back at me, a foot shorter, with a section of the mono snapped clean. I couldn't believe it… my heart sank. I felt like an idiot for applying so much pressure, but it seemed like I had little choice. I'd just lost the fish of a lifetime and to make matters worse, my size 2 Gurgler was broke off in this trophy brown's mouth, with a foot of mono attached to it. Thankfully I was using a barbless hook, but it doesn't make me rest much easier. I can only hope it will work itself free and that the fish will go back to regular feeding (and perhaps give me a second chance next year).
I was both an extremely exhilarating and disappointing finish to the 2013 season. I stood still in the river for a good 15 minutes pondering what had just happened. All I had to look forward to was a 45 minute hike back to my car in the pitch dark and 7 months of trout-less days. It was certainly a memorable end to the trout season.
In addition to losing that fish, I also managed to lose my $200 pair of Smith Polarchromic sunglasses. My buddy lost his $100 landing net and tore a large hole in the neoprene socks of his breathable waders. Good times.