I thought I'd do some catching up and give a quick recap on this past spring and summer of fly fishing on my home waters.
It's been the hottest and driest fishing season I can ever remember here in southern Ontario.  With virtually no snow last winter, there was little to no melt to top up the local streams and rivers, so they started out lower than normal.  On top of that, with the extreme heat and little rain this spring and summer, water levels continued to drop and temperatures soared.  This meant that most of my local trout fishing was limited to the spring, with most of the summer spent chasing warm water species on the fly.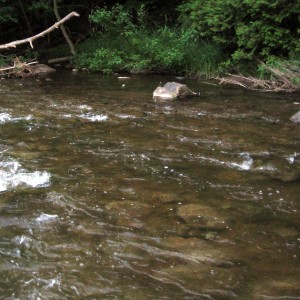 One evening early in the season, I was fishing a favourite local river and decide to wade up a familiar stretch of water that leads to a nice hole, which I had known to hold some nice browns. This stretch of water is generally not overly productive.  Some riffles and runs where you will usually find a few small fish, but not many holding spots for larger fish until you get further upstream – needless to say, I wasn't expecting a whole lot during my trek.